Disney's Vero Beach Resort is a lesser-known DVC vacation destination. Located on Vero Beach on the east coast of Florida, this beachside resort is roughly a two hour drive from Walt Disney World. Disney's Vero Beach has a few miles of private beach for guests to enjoy. It also has several other recreational activities that easily make it to where you never have to leave property. Are you planning a stay at Disney's Vero Beach Resort? Here is how you can spend an entire day there.
Morning
Of course the first thing we suggest that you do during your day at Vero Beach is spend time on the beach itself! The early-morning is a great time to explore the beach before it is touched by the majority of the guests. By taking an early-morning stroll on the beach you can find the best shells. Vero Beach is also a valued turtle nesting ground so tread carefully. Cast Members will mark wherever the nests are, so be aware as you are walking.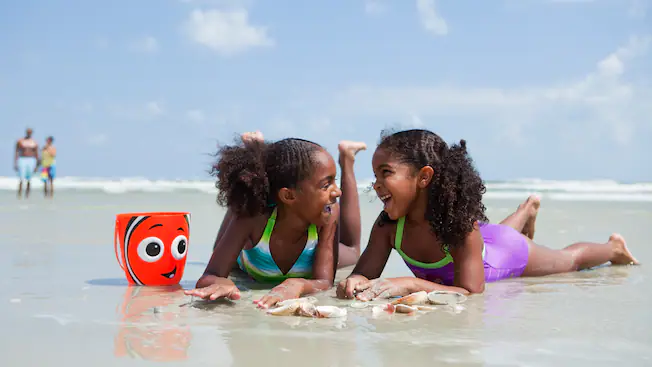 Wind & Waves Grill is a sit-down restaurant that serves breakfast. Guests can chow down on favorites including eggs benedict, key-lime stuffed waffles, and cannoli pancakes. This is a causal restaurant with a coastal flair which perfectly sets the mood for spending time at Vero Beach.
After breakfast is a great time to head back to the beach. Chairs and umbrellas are available for rent, as well as water sports like boogie boards and kayaks.
Afternoon
During the afternoon you can cool off in the Vero Beach Feature Pool. This pool is home to massive two-story spiraling water slide and is comfortably heated as well. Tiger Lily Wet Play Area resides nearby for children and features a pirate ship splash zone.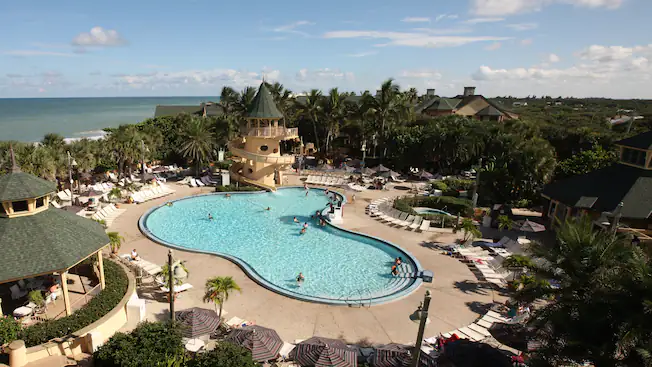 After swimming guests might enjoy the fishing FUNdamentals lesson that they can receive at the resort lake. This experience is for guests ages 7 and up and is an additional charge of 20 dollars. Tennis lessons are also available for an additional charge of 35 dollars per person.
Over at Eb & Flo's Rentals, guests can rent bicycles and also check out complimentary sports balls and ping pong equipment.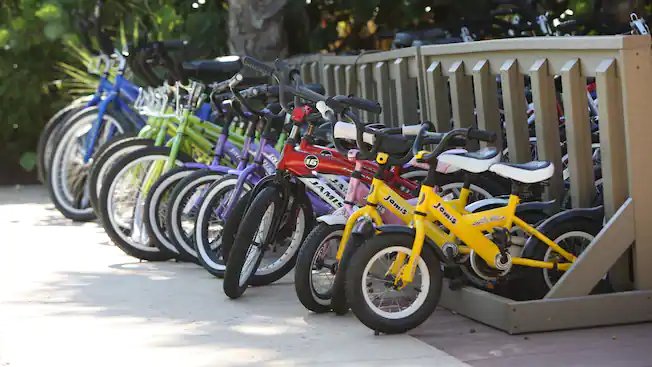 If guests spend some time exploring the resort they will eventually come across a Peter Pan Tunnel that runs underneath the roads and takes them over to the other side of the resort, bringing them to a nature trail experience. This wooded trail is filled with signs that educate guests on the plant-life that they see, and also any critters that they might come across!
Now that you have worked up an appetite, Wind & Waves Market is a quick-service dining location that serves burgers, chicken tenders, and other classic foods. You can also order this food to-go and take it to your resort room to relax while you eat.
Evening
During the evening, guests might enjoy spending some time in the Community Hall. Vero Beach's Community Hall is a place for guests to gather and work on crafts, play video games or foosball, rent DVDs for their resort room, and relax in the air-conditioning.
Guests might also enjoy Port Holes Miniature Golf Course located at Disney's Vero Beach. This 9-hole mini golf course is pirate themed and perfect for adults and children.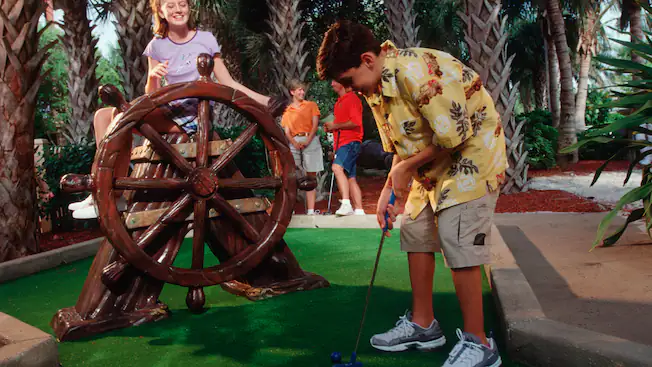 Adults can grab an evening drink at one of Vero Beach's two bars: The Green Cabin Room and Wind & Waves Bar. The Green Cabin Room is a lounge that has a balcony overlooking the ocean. Alongside cocktails and signature drinks it also serves a selection of desserts. Wind & Waves Bar is a poolside bar with a casual and laid-back atmosphere and serves a selection of drinks, beer, and wine.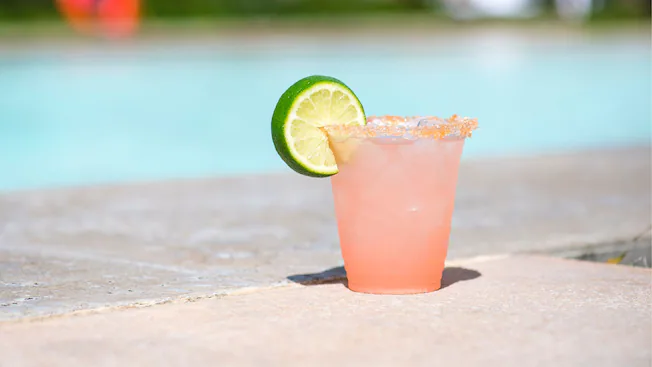 Have you ever stayed at Disney's Vero Beach Resort? How do you like to spend your day? Let us know in the comments below!
Featured Photo by Disney
Written by
Megan Woodard
Contributing Writer
Megan was born into a Disney family. Her first trip to Disney World was when she was only 18 months old. Now as an adult, Megan loves to share the magic of Disney with her two toddlers. Keeping up with Disney news and Disney World knowledge is a fun hobby for Megan. Disney World is her favorite place to be and continuously brings back her childhood joy.