Disney Springs is a great spot for taking a break from the Disney Parks and enjoying some nightlife. With eight bars and over two dozen restaurants, Disney Springs is a wonderful location for a bar crawl. Drinking and eating your way around Disney Springs doesn't have to incorporate much planning. Here is the best way to have a Disney Springs bar crawl and how to have a great time doing it!
Tips And Tricks
Disney Springs is designed to be easy to navigate with excitement and entertainment lurking around every corner. When preparing for a Disney Springs bar crawl there are a few things that guests should keep in mind:
Don't crawl on an empty stomach. Drinking on an empty stomach is a recipe for disaster. Be sure to be frequently snacking during your crawl in order to avoid having to stop drinking early, and exhaustion.
Stay cool. Even if you are crawling during the evening, the Florida heat can still strongly affect your body. Take frequent air-conditioned breaks during your crawl in order to avoid heat exhaustion.
Stay hydrated. You should be drinking one glass of water per every two alcoholic beverages. Staying hydrated during a bar crawl is extremely important to your health.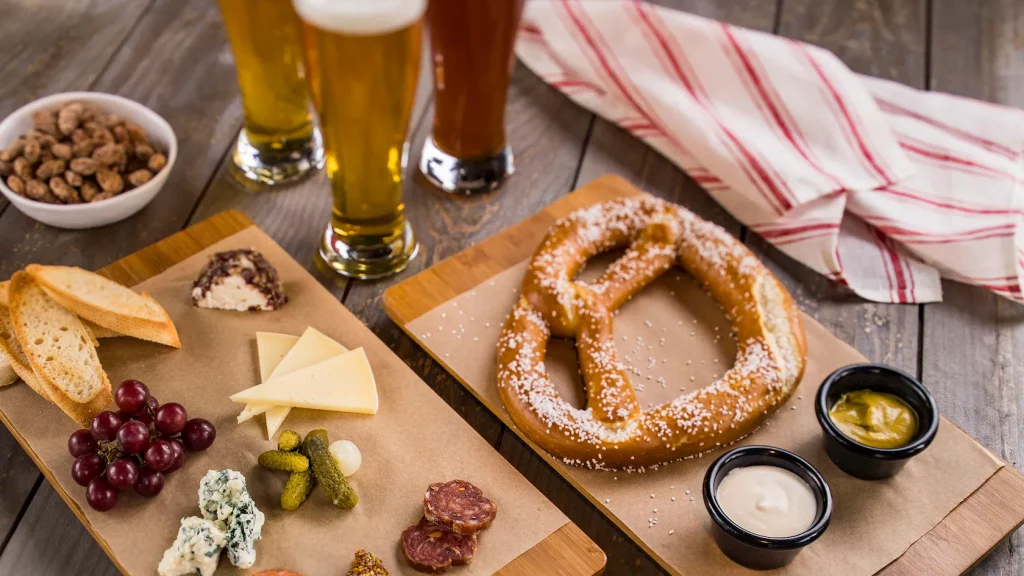 Bars To Visit
At Disney Springs you will find eight different bars along your crawl. Each bar is different in their theming and drink menu, and each have something unique to offer you. You certainly don't have to stop at every bar you see during your crawl. Here are a few fan favorites to consider:
Jock Lindsey's Hangar Bar
This Indiana Jones bar is themed after an airplane hanger in an exotic location, perfect for travelers. Guests can enjoy themed cocktails like the Reggie's Revenge- a cocktail made with Florida Cane Orlando Orange Vodka, Midori Melon Liqueur, white cranberry juice, and lime juice.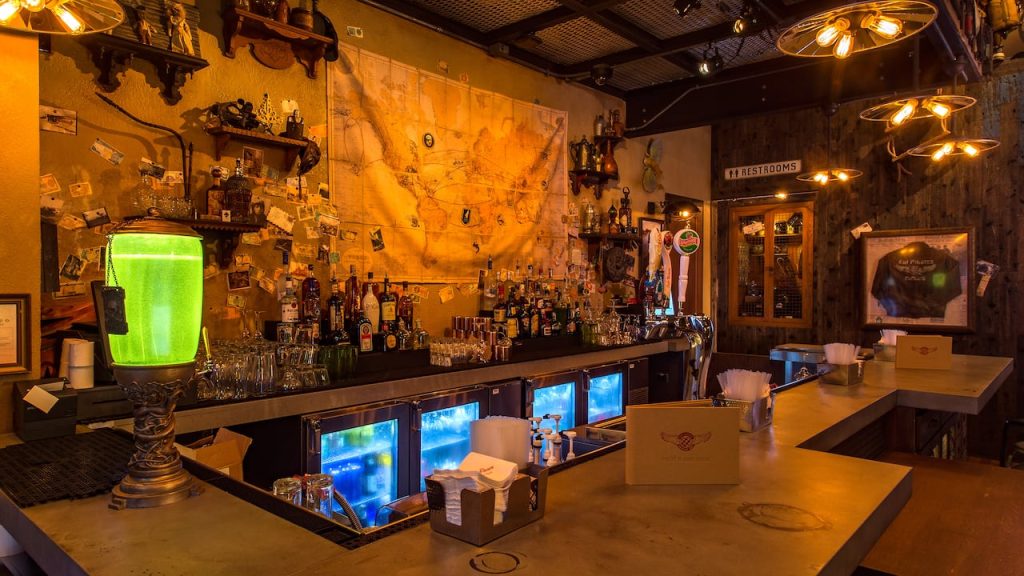 House Of Blues Restaurant And Bar
This lively bar and restaurant is the perfect nightlife experience. House of Blues takes New Orleans and brings it to Florida, and features live music performances. Sip on bourbon, mojitos, and mules, as you take in the ambiance of this fun restaurant.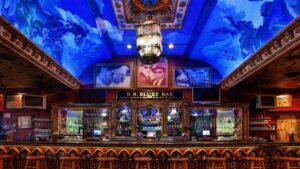 Raglan Road Irish Pub And Restaurant
Every great bar crawl features an Irish Pub, and Raglan Road is Disney Springs source of Irish whiskey, beer, and entertainment. Raglan Road is an upbeat experience that features Irish music, dance, food, and Guinness of course.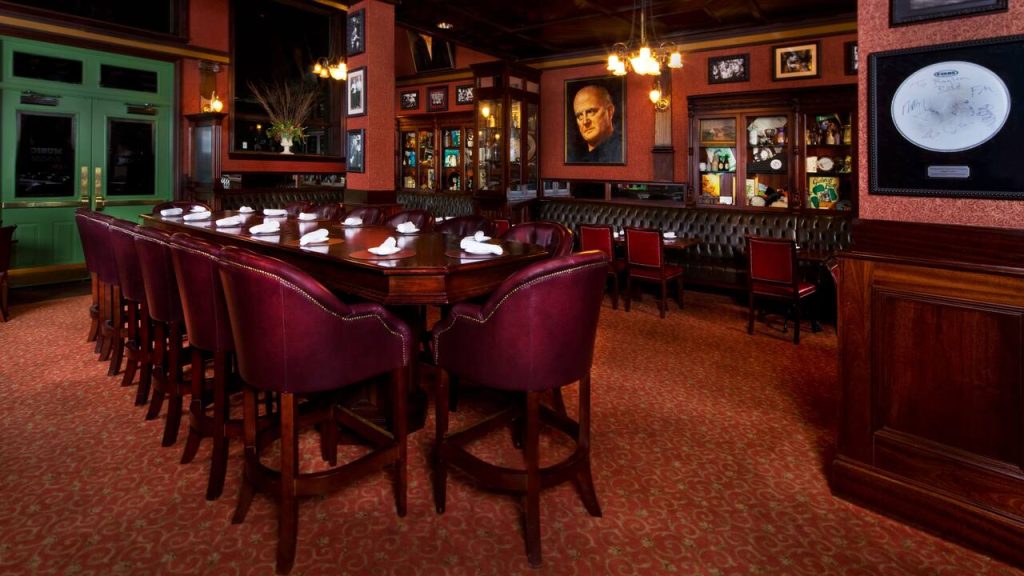 Stargazer's Bar
Stargazer's Bar is an outdoor patio located on the ground floor level of Planet Hollywood. This outdoor bar features live music and specialty drinks. Reservations are highly recommended for this experience.
Food to Eat
With over two-dozen restaurants to choose from, it can be hard to decide where to stop along your crawl. Here are a few suggestions to get you started!
Wine Bar George
Wine Bar George is an excellent location for a sit-down meal during your bar crawl. Sip on any type of wine you can think of while you dine on charcuterie boards and an assortment of small plates.
Splitsville Dining Room
If you are going for a more casual meal during your crawl then check out Splitsville. Guests can play a round or two of bowling at this upscale alley, and then sit down to a meal of pizza, sushi, burgers, or sandwiches.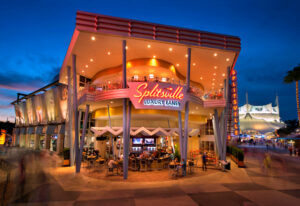 Gideon's Bakehouse
No bar crawl is complete without a sweet treat. Gideon's Bakehouse is the destination for cookies and slices of cake. Stop by between 7pm and 8pm for hot cookie hour served with homemade ice cream.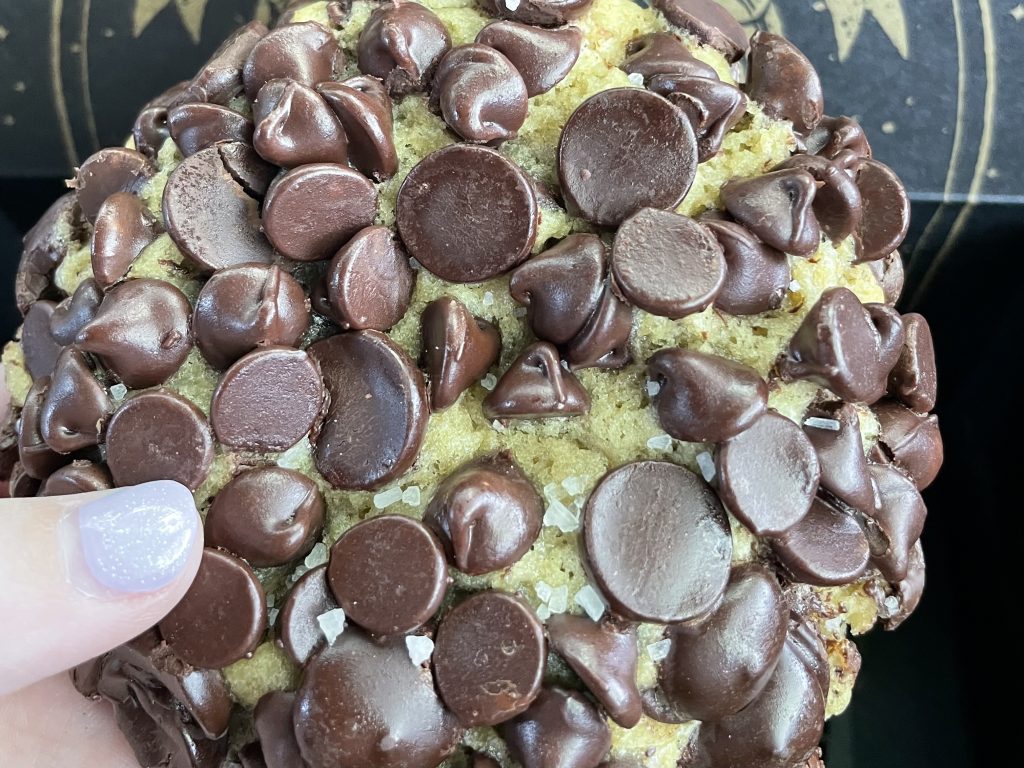 Disney Food Trucks
Disney Springs is home to food trucks as well. If you need a quick bite during your crawl then make your way toward Exposition Park and grab something from one of three trucks: Local Green Orlando, 4 Rivers Cantina Barbacoa Food Truck, and Cilantro Urban Eatery Food Truck.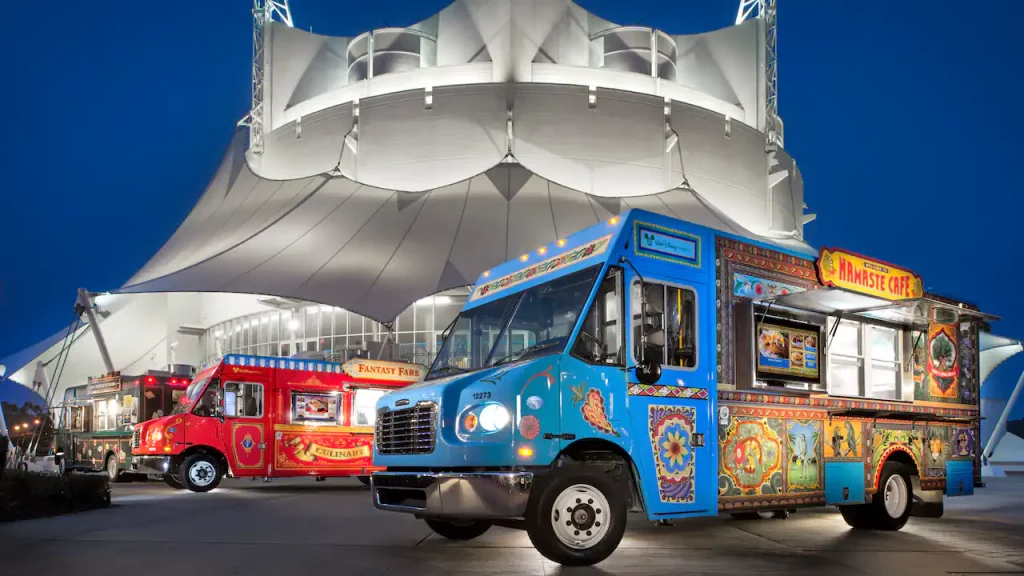 Returning Back To Your Resort
Before you begin your crawl be sure to have a plan as to how to get back to your resort. Disney resort buses run until 12:30am from Disney Springs. If you find yourself lingering after that time you should call your rideshare service of choice or a taxi.
Remember that you are still on Disney property, and Disney Springs is a family-friendly environment no matter what the time of night. Guests who become unruly can and will be escorted off of property and face a ban of returning to Disney property, so be smart about your crawl and know when it is time to stop.
Where is your favorite place to eat or drink at Disney Springs? Let us know in the comments!
Written by
Megan Woodard
Contributing Writer
Megan was born into a Disney family. Her first trip to Disney World was when she was only 18 months old. Now as an adult, Megan loves to share the magic of Disney with her two toddlers. Keeping up with Disney news and Disney World knowledge is a fun hobby for Megan. Disney World is her favorite place to be and continuously brings back her childhood joy.