Florida bars will be officially allowed to reopen starting Monday, September 14, state officials announced Thursday evening. 
While bars throughout the state had reopened on June 3, a rise of coronavirus cases led them to shut down again on June 26. This second reopening comes as the statewide rate of infections is down to 5.54%.
According to the Florida government's announcement, all bars will be held to 50% capacity limit, and all tables must be spaced at least six feet apart. Officials are optimistic that bar owners and managers will now take the new standardized health and safety regulations seriously, and that the bars will remain open.
This offers hope for those of us who miss our favorite bars at Disney World.
While most restaurants and quick-service locations at Walt Disney World sell alcoholic drinks, it was only those whose main offering was alcohol that were not allowed to reopen. These establishments included favorites like Trader Sam's Grog Grotto and Tiki Bar at Disney's Polynesian Village Resort and Jellyrolls Lounge and Piano Bar at Disney's Boardwalk Villas Resort.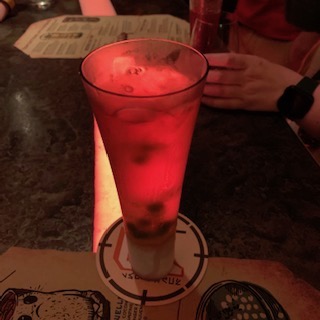 A few bars, including Oga's Cantina at Galaxy's Edge in Disney's Hollywood Studios and Jock Lindsey's Hangar Bar at Disney Springs were able to open with modified menus and experiences.
Oga's Cantina has been one of the most popular sites at Disney's Hollywood Studios, and while Disney removed the location from the list of opening restaurants on June 29, it was re-added shortly thereafter. While the seating process at the cantina has not changed much, at the moment one cannot wander around or sit at the bar due to physical distancing requirements. The menu remains unmodified, but the cantina's famous Gold Squadron Lager, previously only available inside, can now be found at outdoor vending carts throughout Galaxy's Edge. 
Jock Lindsey's Hangar Bar was able to reopen on June 25 with limited seating and a modified menu. Like most restaurants throughout Walt Disney World now, the menu is only digital, with limited offerings. Bar seating is still available but with seats spaced six-feet apart along the bar. The adventure theming based on Indiana Jones remains the same, offering a fun experience for all.
The Lounge menu also changed at the Rose and Crown Pub in the United Kingdom Pavilion in EPCOT's World Showcase. While the restaurant is open and still offers most of its food options, a number of its alcoholic drinks were removed from the menu. 
Disney initially promised that Jellyrolls, a dueling piano bar, would reopen on October 1, but announced on Friday, September 4 that the opening date was being pushed back indefinitely. Now that the alcohol and bar ban is being lifted again, it is possible that we may actually see an opening date for the bar in the near future.
It seems as if we will still likely have to wait on Trader Sam's as Disney World also announced last week that the Polynesian Resort's opening has been pushed back until Summer 2021. However, when it reopens, it will be freshly refurbished with designs inspired by the Pacific Ocean and the island of Motonui from Disney's 2016 animated film, Moana. While we will probably have to wait to visit Trader Sam's until after the refurbishment is complete, we'll be greeted by a beautiful and fresh design in the resort.
Disney World has not yet made any announcements regarding how the Florida state policy change may affect the reopening of any of the bars or lounges currently closed at the resort. With the Florida government's announcement on the revoking of the alcohol ban being so recent, Disney World executives and Food & Beverage managers are likely still discussing the possibilities. With any luck, we'll be visiting our favorite bars at the parks again in the near future.
Seth Nock
and the DVC Shop Editorial Team