Disney Vacation Club has a language all its own, and two terms that are commonly mixed up are selling and renting. DVC Shop can assist you with both! To help you contact the right staff and avoid any frustration or minor delays, it is useful to understand the difference between renting and selling.
Selling
Selling refers to selling your ownership interest in Disney Vacation Club. If you are selling, this means you are currently a Disney Vacation Club member and owner and are looking to sell off a contract that you hold ownership interest in. DVC Shop can help you sell your contract with the highest level of customer satisfaction. 
One of the bevy of reasons Disney Vacation Club is so attractive is as a vacation ownership interest it breaks the standard industry mold—many vacation ownerships plummet in value over time, whereas Disney Vacation Club generally retains or gains value. While we hope you are never in a tight financial position where you need to sell your Disney Vacation Club contract, it is reassuring for many owners to know that option exists.
On the other hand, sometimes selling your current contract is not monetarily motivated at all, but instead motivated by a change of vacation style. Perhaps you purchased an Animal Kingdom Villas contract when your children were younger, but now they are grown and not vacationing regularly with you. In this case, maybe you would prefer a different home resort that your kids did not care for. In this case, you could sell your current Animal Kingdom Villas contract to buy a different home resort—possibly Polynesian Villas and Bungalows suits your taste better.
Similarly, say your first Disney Vacation Club contract was a relatively small number of points, but now you have a growing family. Rather than vacation as just yourself and one other, you want to experience Disney trips with your extended family in a two- or three-bedroom villa. In this example, you may want to sell your current smaller contract to help pay off a purchase of a larger contract that can better accommodate your changing vacation style and needs. Or purchase an additional contract to increase the number of DVC Points you have each year to use.
The term selling essentially refers to a current owner selling off their Disney Vacation Club contract. Once sold, they would no longer have access to their DVC Points. The contract would be transferred to the buyer who would then receive the yearly allotment of DVC Points and the membership benefits. Renting is a completely separate process, with different motivations.
Renting
Renting points is similar to booking a hotel room. When you book a hotel room, you pay cash for a temporary stay. You have no ownership interest in the hotel; you have not purchased a contract, and you do not need to consider selling at any point.
If you'd like to stay at a Disney Vacation Club Villa without purchasing a contract and becoming a member, you can rent points from current members. Sometimes members do not use all of their Vacation Points in a given year. Rather than let those points expire and go to waste, they can rent those points out to you. You, the renter, still pay cash similar to booking a hotel. But rather than paying the hotel directly, you are the Disney Vacation Club member you are renting from who will create your reservation for you. 
DVC Shop is here to shepherd you through the rental process every step of the way. You choose the resort and Villa size you'd like to experience and your travel dates, and professionals at DVC Shop coordinate with current Disney Vacation Club owners who want to rent out their points to you. You will be in communication with DVC Shop staff during the entire process, and once they find your perfect reservation it will be booked for you—sit back and relax!
Alternatively, if your dates are flexible, I highly suggest browsing the DVC Shop confirmed reservations. Sometimes current Disney Vacation Club owners have reservations they can no longer fulfill; then, these owners work with DVC Shop to list their reservations to rent to you. The overall gist for confirmed reservations is the same as the standard way of renting points—you are getting a wonderful resort stay, but no ownership in Disney Vacation Club. Confirmed reservations are often extremely great deals and if you are amenable to traveling during these already booked time periods this can be a fantastic way to save money or stay in rooms you may not be able to otherwise book.
For example, this listing is for a Club Level Villa at the Animal Kingdom Villas – Jambo House. Club Level inventory at Jambo House is limited and can be quite difficult to book. Always keep an eye out on the confirmed reservations page for exciting opportunities!
Ultimately, think of selling and renting Disney Vacation Club as similar to selling or renting a car. If you are selling your car, that means you already own it and you are getting rid of that asset. The same is true for selling Disney Vacation Club—in order to sell you would already own a contract, and you would sell it to no longer be owner.
In contrast, when you rent a car you gain temporary access to the vehicle, but eventually return the rental car as you do not have any ownership rights. Similarly, when renting Disney Vacation Club you are paying to rent DVC Points for temporary access—you get that wonderful Disney Vacation Club Villa stay on your vacation, but no ownership of Disney Vacation Club.
If you have any questions about the difference between selling and renting Disney Vacation Club leave us a comment below.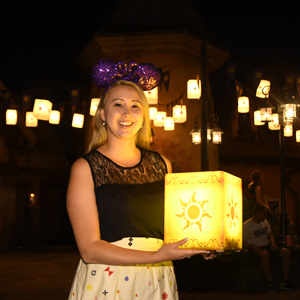 Written by
Jacqueline R.
Contributing Writer
Jacqueline is a PhD scientist with a passion for synthesizing detailed information in an understandable format. She is a Disney Vacation Club owner, overall Disney fan, and the primary content creator on the YouTube channel Pixie Dust PhD.