City Works Eatery & Pour House at Disney Springs offers 90 local and globally craft beers, as well a nice selections of cocktails and wines that will enhance the selection of food choices they offer. While American cuisine is featured, many of the dishes offer a "twist" of uniqueness to make a regular bar meal unforgettable.
City Works Eatery & Pour House Details

Walt Disney World Park:
Disney Springs
Location:
West End
Dining Experience:
Casual Sports Bar
Hours:
Mon
11:00am – 11:00pm
Tues
11:00am – 11:00pm
Wed
11:00am – 11:00pm
Thurs
11:00am – 11:00pm
Fri
11:00am – 11:30pm
Sat
10:00am – 11:30pm
Sun
10:00am – 11:00pm
Price Range:
 Beers: $4.50-10 Bites: $12-21 Mains: $18-39
Type of Cuisine:
 American, with some Twists
Mobile Order:
No, but Carry Out is available on their website.
Reservations:
Recommended, especially for larger parties, dinner and weekend brunch.
Allergy-Friendly:
Yes

Overview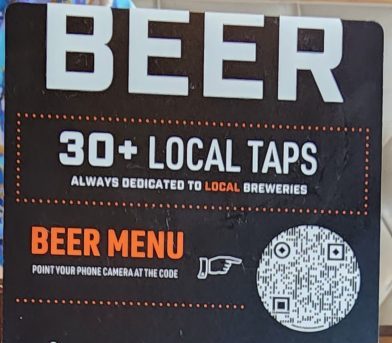 Choose from indoor or outdoor seating. If you're a beer lover, it might take a few minutes to decide on a drink as City Works offers 90 amazing craft beers in addition to a wonderful assortment of cocktails, wines and soda products.  While you are browsing the rest of the menu, check out the variety of sports they offer on their 17 HDTV's. City Works is a great place to stop by if you want to catch a game, enjoy a nice lunch or dinner while shopping in Disney Springs or just want a good meal with friends and family.
Menu
Start with the extensive list of beers, including many local breweries, and you will find something for everyone as you browse the seasonal brews, IPA's, Fruited and Sours, Wheats, Lagers, Ciders, Seltzers, Ambers, Belgian, Stouts and Porters.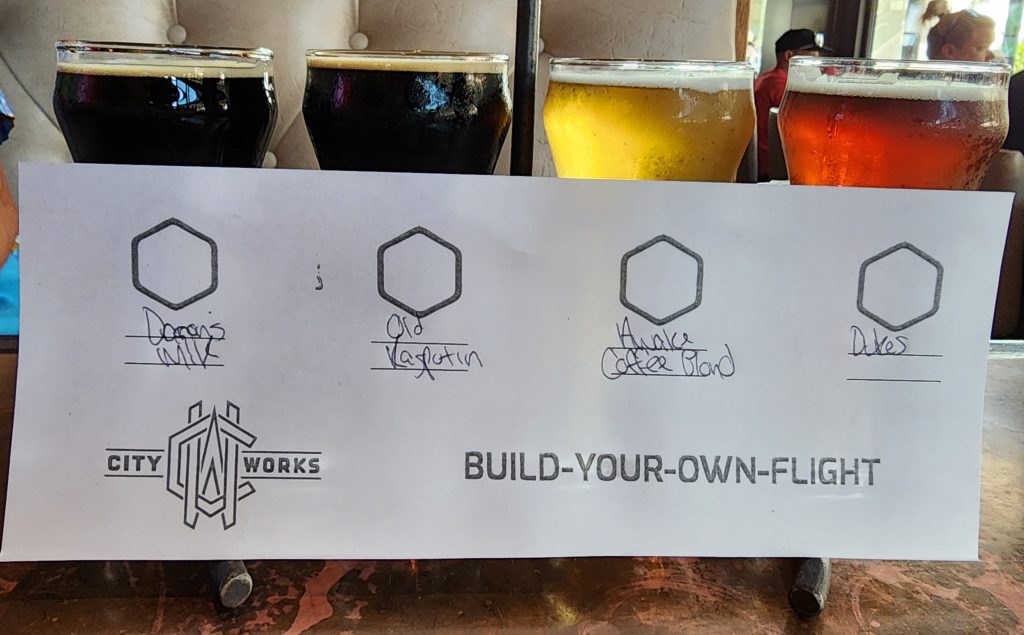 City Works offers an extensive menu that is sure to please everyone in your party. After you make your drink selection, the next tough decision will be choosing from 12 of their fun variety of bar bites, including Cheese Curds, Duck Nachos, Spicy Shrimp, Kung Pao Cauliflower and Sticky Ribs. Or choose from the variety of soups, salads, five types of tacos, six types of burgers/handhelds, and several BBQ favorites. If that doesn't strike your fancy, you still have few more mains to choose including pasta, pork chops, salmon or fish and chips just to list a few. For the younger ones, they offer a few kid favorites, including mini burgers, pizza and mac and cheese.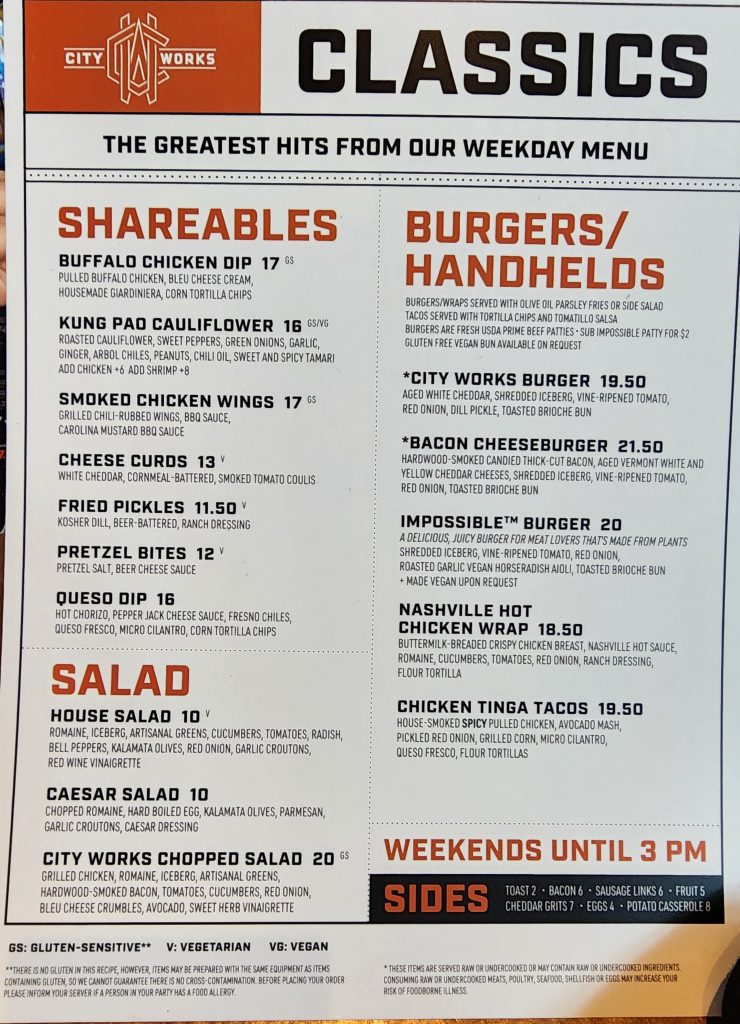 If you'd like to receive discounts join their club and receive $10 off your next purchase. This is a nice bonus if you are a frequent visitor to City Works and other Bottleneck restaurants.
Map
City Works Eatery & Pour House is located on the West End of Disney Springs near House of Blues and Cirque du Soleil. Park in the Orange Garage or Surface Parking when available.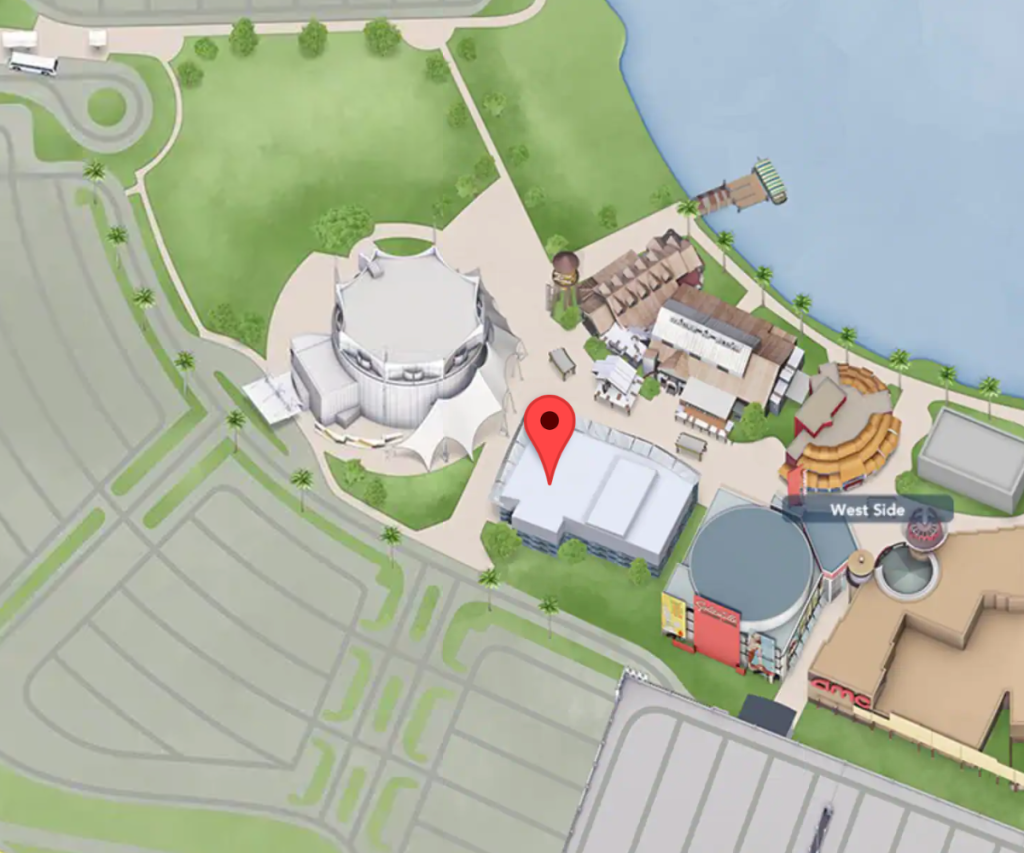 Review of their Weekend Brunch
My husband and I enjoyed the Weekend Brunch for Mother's Day. I had a hard time deciding, but settled on the Sweet Child O" Mine stuffed Brioche French Toast which was two layers of thick bread. I ended up eating one piece and saved the second piece for the next morning and it heated up perfectly and was just as good the next day.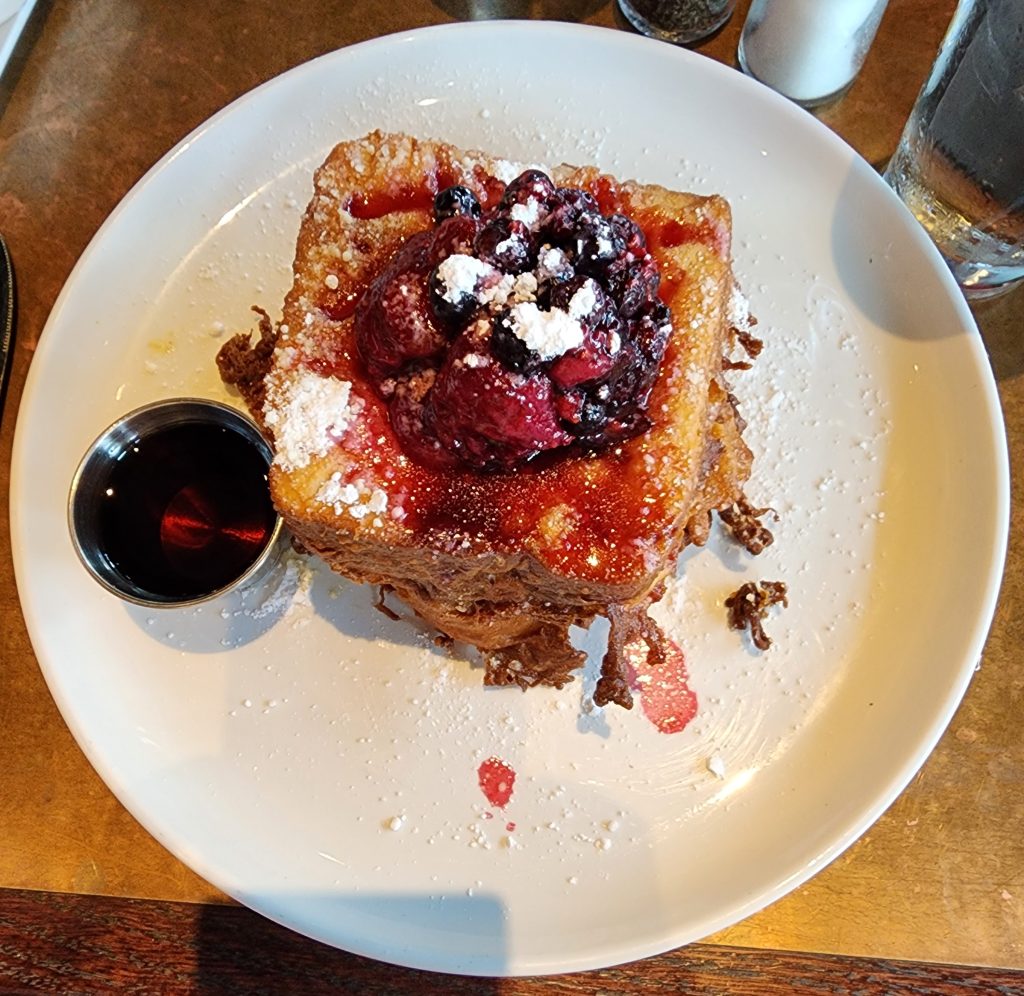 I also ordered the Mimosa Flight, which was enjoyable. There are six styles to choose from. I tend to be a Classic or Bellini lover, but I found the Sangria and Tropical mimosas to be very refreshing. The only downfall for me was they got a bit warm as I tend to sip on my drinks, so I had to add some ice to my last drink.
My husband choose Kung Pau Cauliflower, a House Salad and a side of the Cheesy Potato Casserole. They were very accommodating to his shellfish allergy and gluten concerns and the waiter confirmed his food choices with the chef before he put the order in for us. The manager popped by and asked if we were enjoying everything.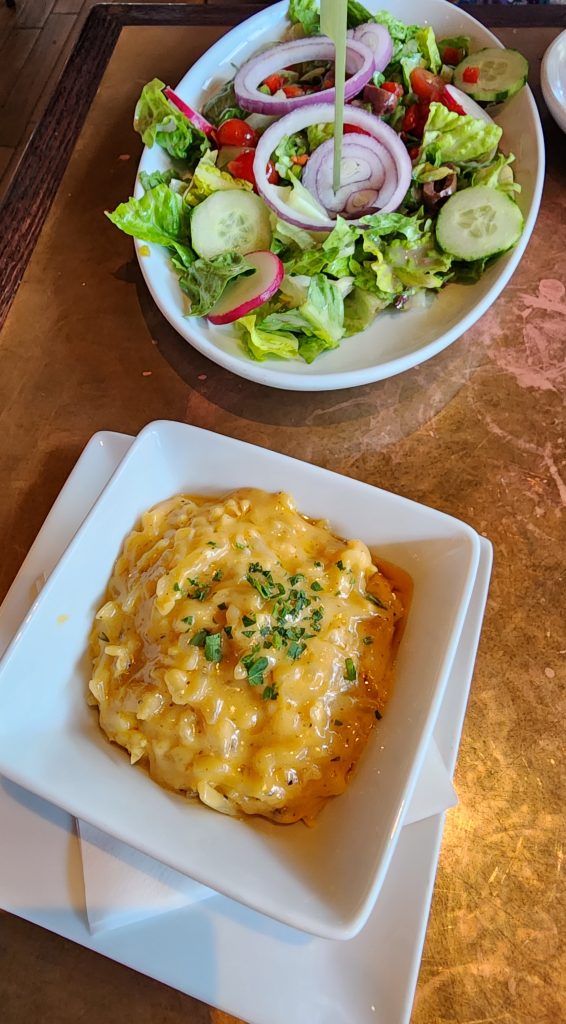 She asked our opinion on the potatoes and we said that they were very good. She then told us it was an updated recipe and so far everyone seems to like it, but she's been asking for feedback from the customers. We told her our neighbors rave about the Duck Nachos and she said she orders those often for her lunch.
The staff is very well trained, as we found out our server had only been working alone for four days and we couldn't tell. He did a great job giving us some recommendations and making sure we were well taken care of during our meal.  Overall it was a delicious meal and we enjoyed our beverages and we look forward to returning again.
Written by
Karen Fountain
Contributing Writer
Karen has been a Disney fan her whole life and has been visiting almost yearly since 1997, when her daughter turned 4. She has become an avid cruiser with Mickey as well. Born and raised in the Washington, D.C. area, she recently she sold her business and with her husband, decided it was time to make the Orlando area their new home. They love being able to pop over to Disney on a whim and enjoy lunch or dinner at Disney Springs or catch a concert at Epcot.