Space Cadets, do you have what it takes to defeat The Evil Emperor Zurg? Buzz Lightyear needs your help to stop Zurg and save The Toy World from mass destruction! 
Buzz Lightyear Astro Blaster Details

| | |
| --- | --- |
| Disneyland Resort Park | Disneyland |
| Location in Park | Tomorrowland |
| Height Restrictions | Any Height |
| Age Interests | All Ages |
| Thrill Type | Slow Rides, Spinning, Dark, Loud |
| Hours | Park Open to Park Close |
| Wait Times | Average of 15 Minutes |
| FastPass+ | No |
| Accessibility Information | Must Transfer from Wheelchair/ECV |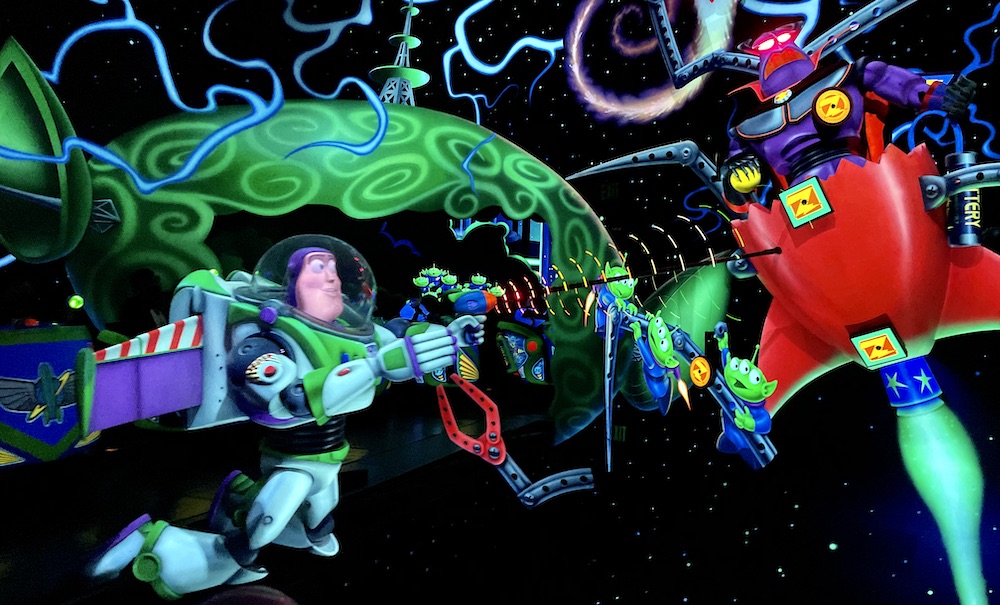 Attraction Overview
On Buzz Lightyear Astro Blasters at Disneyland, you can cruise through space with Buzz lightyear and his little green alien friends to stop The Evil Emperor Zurg. Zurg and his army of robots are on a mission to steal batteries to power a new weapon that will be used to destroy The Green Planet. Use the joy stick in your space cruiser to spin a full 360 degrees. Look for all the flashing "Z" targets and blast them with your laser gun located in your space cruiser. Hit as many targets as possible and watch your points add up on the electronic dash board in front of you. Defeat Zurg and see the toys rejoice in victory that their planet is now safe. When the mission is complete and you exit your Space Cruiser, don't forget to check the status board on your way out. Compare your score to the score board to find your level and rank. Were you in the lowest rank as a Space Ace or the highest rank as a Galactic Hero? During the ride a photo is also taken of you, be sure to stop at the touch screens, look at your photo and send it to your email free of charge.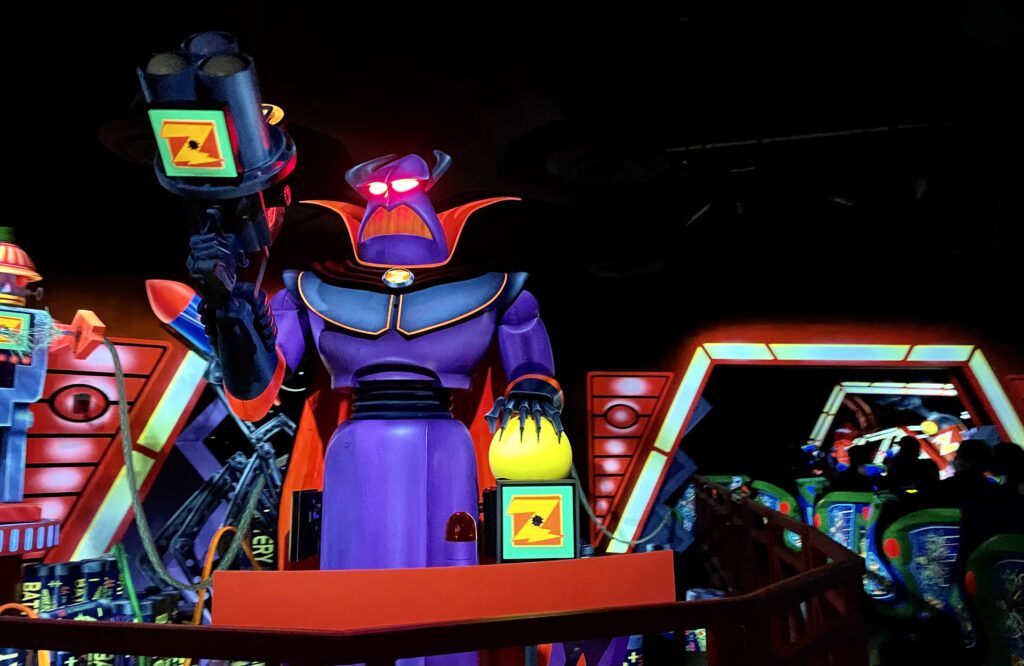 Map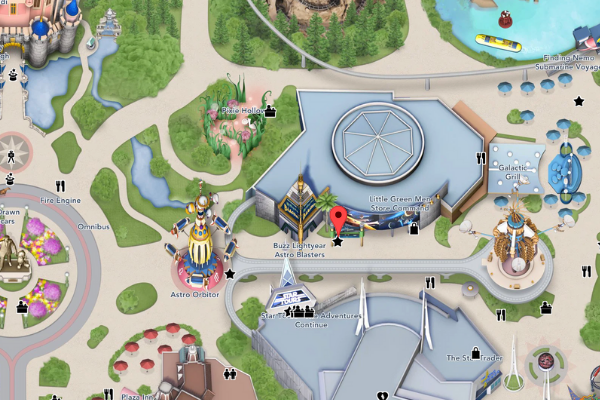 Location & Wait Times 
Buzz Lightyear Astro Blasters is located in Disneyland's Tomorrowland. When you enter Tomorrowland, the attraction is located behind Astro Orbitor to the left and is directly across the way from Star Tours. Wait times for this ride average around 15 minutes.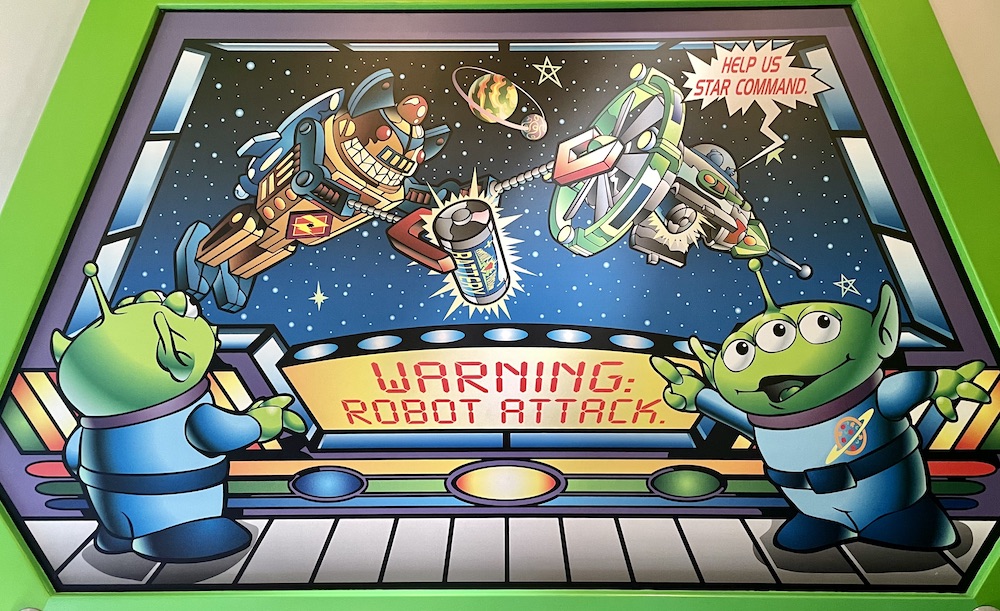 The Queue
The Queue for Astro Blasters is mostly indoors, it can trickle outside back towards Astro Orbitor if the line is long. When entering the building, you will see pictures on the walls that tell the back story of the ride. You will see Zurg attacking the home of the little green aliens. There is also a large animatronic Buzz Lightyear with a Astro Blaster in hand. The space cruisers are on a moving belt, which helps the line stay constantly moving forward.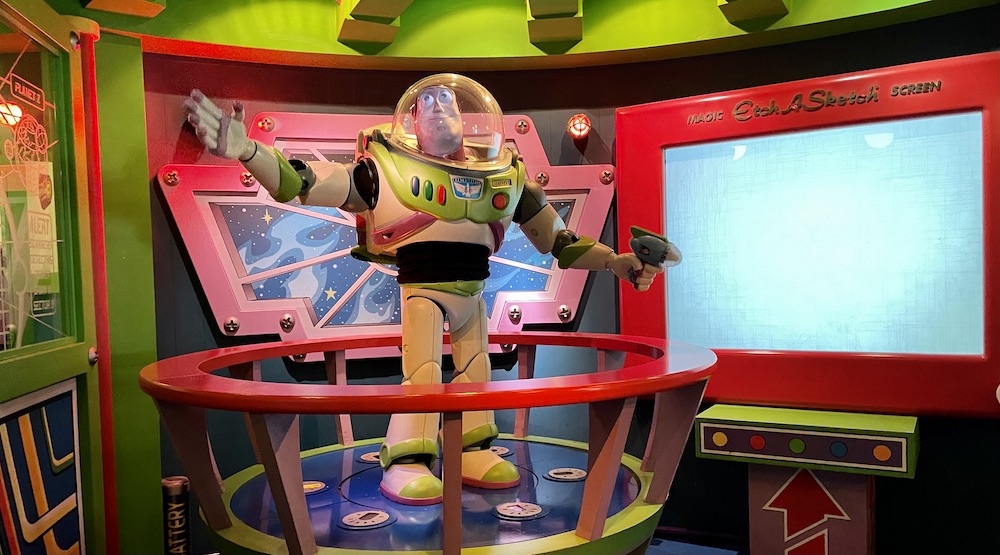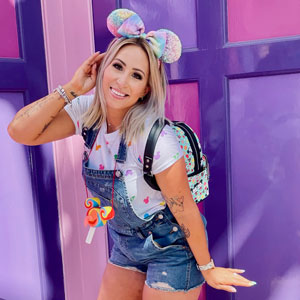 Written by
Brittney Malina
Contributing Writer
Brittney has been going to Disneyland since she was 3 years old. She has had a deep love for all things Disney ever since. Now as a wife and mother of two, she gets to share the love with her family and re-live the Disney magic through her children's eyes. Brittney is a Legacy Passholder and you can find her walking down Main Street, U.S.A. with a churro or iced coffee in hand.