Finding Nemo's Bruce may insist that "fish are friends, not food," but sometimes us humans just can't resist. When you're visiting Walt Disney World, you'll want to remember these restaurants if you're in the mood for seafood. Here is where you'll find the best seafood when dining at Disney World.
Flying Fish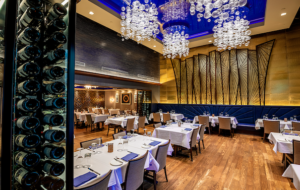 Located at Disney's BoardWalk, Flying Fish is a signature dining experience that has been a fan-favorite for years. Although they not scheduled to reopen due to COVID-19 until August 3, their menu typically changes seasonally to offer the freshest catches available. That's what makes Flying Fish so great, guests are able to step outside of their comfort zone to try a new type of fish, but with a guarantee that is will be cooked to perfection. The ambiance and consistency is what continues to draw guests through the doors at Flying Fish year after year.
Narcoossee's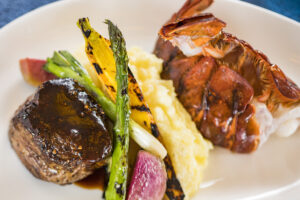 Narcoossee's is another Disney staple that's been popular for years. It's located on the waterfront at Disney's Grand Floridian Resort and Spa, which makes it an ideal location to dine to view Happily Ever After or the Electric Water Pageant. The menu offers a variety of seafood with a Florida flare, such as shrimp and grits and grilled line-caught swordfish. Another staple of their menu are their surf and turf options, which allow you to pair a 6-oz sirloin with your choice of lobster tail, pan-seared scallops, blackened salmon, or grilled shrimp.
Cape May Cafe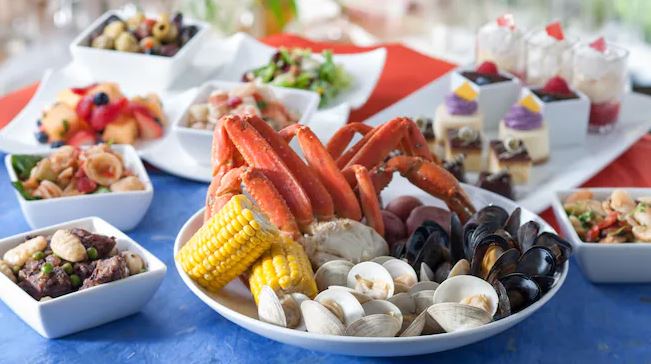 This Beach Club location offers a delicious character breakfast, but in the evenings, the restaurant turns into a New England clambake. Pre-COVID, the restaurant offered an all-you-can-eat buffet that featured crab legs, peel and eat shrimp, and clam chowder. Currently, they're serving a similar feast family style and you can add on crab legs or a lobster tail for an additional fee. Although this location is more casual than some of the others on the list, it's definitely a place you can get your money's worth if you're hungry enough!
Photo: Intimate Weddings of Orlando
Paddlefish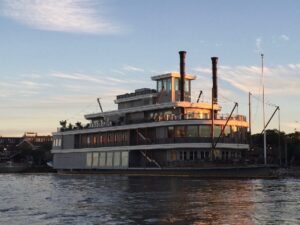 Open for lunch and dinner, this Disney Springs eatery is literally located on a boat! The inside of the restaurant is decorated in a tasteful and modern nautical theme, which offers lovely views of the surrounding lake. Upon first glance at the menu, the number of seafood options can be a little daunting, but you really can't go wrong with any of them. They offer both king crab and snow crab, as well as catfish and, here's a new one, lobster guacamole! Overall, Paddlefish gets a 10 out of 10 for both ambiance and eats. 
The Boathouse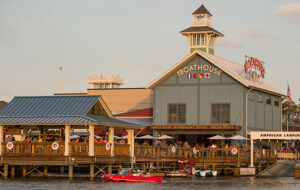 Also located at Disney Springs, this eatery really is the crown jewel for seafood lovers. They offer both indoor and outdoor seating, which offers great views of guests cruising in the Amphicars. Inside, there's a full oyster bar and display cases to view all the wonderful seafood you're about to enjoy. Whether you're looking for a traditional lobster roll or a full seafood boil, The Boathouse has you covered. Between the delicious and expansive menu and the cute, vintage vibes, this restaurant has become a quick favorite amongst Disney fans since opening in 2015. 
Yorkshire County Fish Shop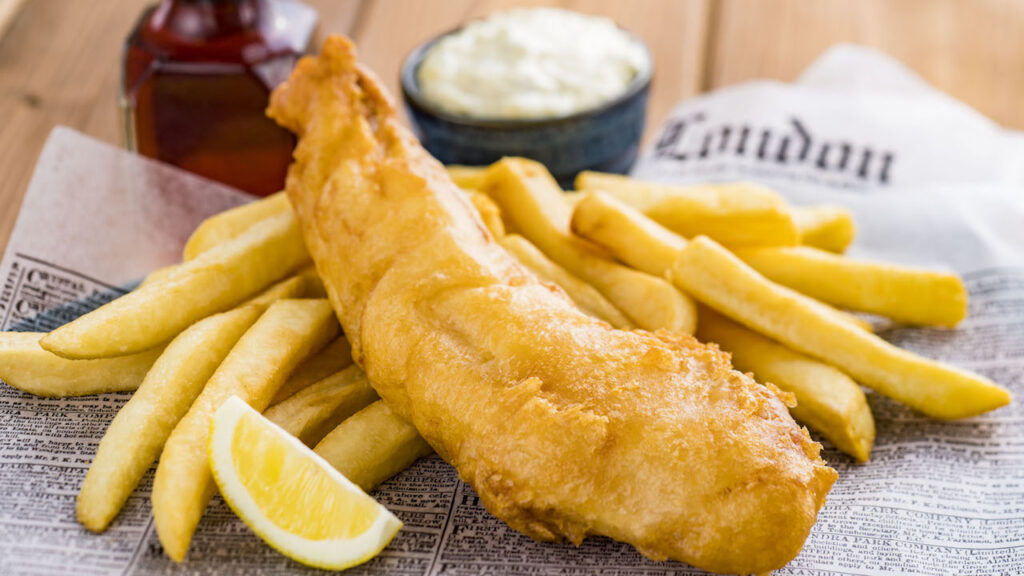 Now this location may not be as upscale as some of the other dining options on this list and it may not have a very large menu, but it does offer a seafood staple in it's best form: fish and chips. On a trip to Epcot, you'd be remiss to pass over this classic walk-up shop that serves one very large piece of fried fish with a side of chips, or as us Americans call them, French Fries. After you've picked up your meal, wrapped in newspaper, like they do in England, you can dine outside along World Showcase Lagoon. 
There are many restaurants throughout Disney that serve seafood, but these are some of the best dining locations for seafood at Disney World. Whether you're looking for fancy, exotic fish dishes or something a little more simple and casual, Disney has you covered. When you're on the My Disney Experience app, you can filter the dining options to show you which ones offer seafood to find the perfect meal for your family. 
What's your favorite restaurant for seafood at Disney World? Have you tried any of the locations above? Share your comments and suggestions in the comments below!
Written by
Erika Lucas
Contributing Writer
Erika has lived in Orlando her whole life, so she was practically raised at Walt Disney World. While in college, she worked for Disney in roles ranging from character attendant to VIP tour guide. Nowadays, she spends her days planning her next trip to the parks or dreaming about setting sail on another Disney Cruise.