Marvel fans will be thrilled to learn that "Avengers: Quantum Encounter" will debut on Disney's Wish! Disney Cruise Line is certainly outdoing itself with every ambitious announcement they make about their cruise offerings on the Disney Wish.
The Disney Wish was first revealed back in April. At this time it was also announced that this remarkable cruise would house the Worlds of Marvel restaurant. Since that announcement, fans have been awaiting new information on this immersive dining experience, and now we have it.
A Cinematic Dining Experience
"Avengers: Quantum Encounter" will be a cinematic dining experience, with quite the engaging storyline. Ant-Man and The Wasp will appear at the restaurant to give a presentation on the strongest Super Hero technology that is available. This will be their first public appearance on behalf of the Avengers, so hopefully all will go according to plan. They will present holographic models of different technologies, such as Avengers' weapons and Iron Man's Arc Reactor, and will also display scenes from the Marvel universe on large screens the surround guests in the dining room.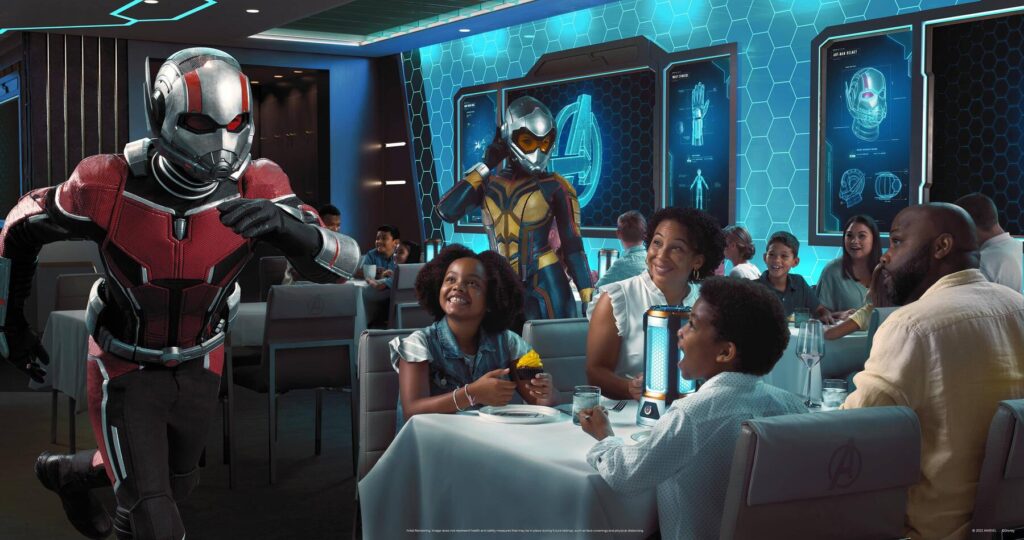 This presentation will also include a demonstration of the newest Pym Tech, the Quantum Core, which will be able to grow and shrink things with the simple push of a button. Ant-Man may shrink things he shouldn't but things will go from silly to scary when a villain appears with an army to steal the Pym Tech.
Which Characters Will Be Featured?
Ant-Man and The Wasp will team up with multiple Avengers such as Captain America, Captain Marvel, and will also ask for the help of all of those dining at the Worlds of Marvel restaurant to take down the villain.
Every table at the restaurant will have its own Quantum Core that will come in handy during this fight. When all of the Quantum Cores are activated at the same time the entire restaurant will become supercharged for a special surprise.
Avengers: Quantum Encounter' is Disney Cruise Line's most ambitious dining experience ever. We're doing something that's never been done before in a restaurant, developing an exclusive Avengers adventure that will immerse our guests in the action through sophisticated technology and innovative storytelling. It's the perfect complement to the incredible menu of story-driven dining aboard the Disney Wish.
Danny Handke - Senior Creative Director, Walt Disney Imagineering,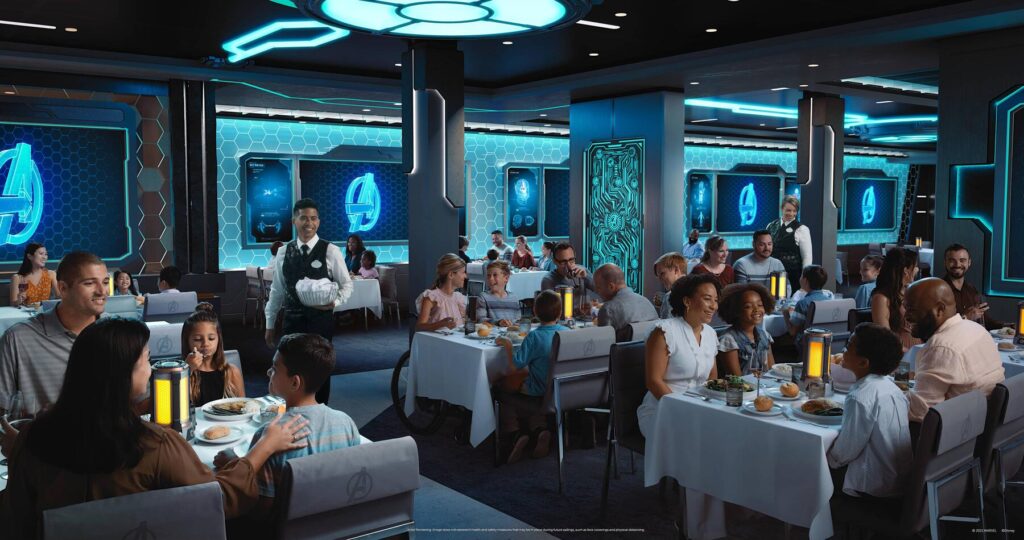 The show will obviously be amazing, but the menu at Worlds of Marvel will be just as awe inspiring. The menu will be inspired by the countries and cities that the Avengers call home. Dishes will be created stemming from classic New York City cuisine, Wakandan specialties, and Sokovia delicacies. The menu has not yet been released, but when it is, we will let you know! You can browse Disney's itineraries for summer of 2022, to book your next Disney Cruise. Keep checking the DVC Shop blog for updates on this incredible dining experience and the incredible foods that will be offered.
What do you think about the debut of "Avengers: Quantum Encounter" taking place on the Disney Wish? Will you be able to enjoy this exclusive dining experience? Let us know in the comments below!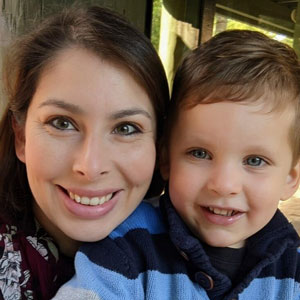 Written by
Rachel Van Norman
Contributing Writer
Rachel fell deeply in love with all things Disney as a little girl. Now as a wife and a mother herself, she shares this Disney obsession with her son and everyone around her. From her love of princesses to eating all the Disney food, Rachel spends her time radiating Disney magic and keeping everyone up to date on Disney news.