At Disney Springs in Orlando, Florida, there is a special place where the magic of the movies meets the magic of Disney. The AMC DINE-IN Disney Springs 24, located at West Side, is a fully operating movie theater on Disney World's property where guests can see latest blockbuster films. Read on for more information about the most magical movie theater on earth!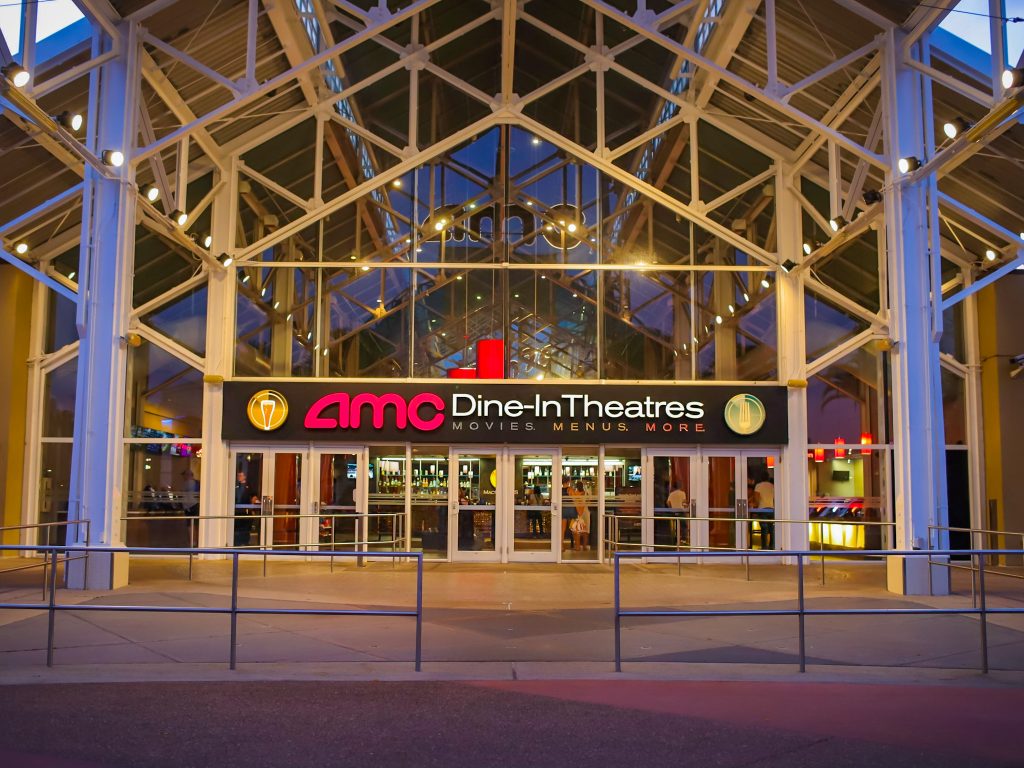 Get Ready For Your Close Up
Because the AMC DINE-IN Disney Springs 24 is at West Side, the closest parking location is the Orange garage. Near each side of this garage, there is an entrance to the AMC. The entrance closest to Planet Hollywood is where the dine-in theaters are located. On the opposite side is the entrance for the Dolby Theater and the standard seating theaters. Despite this, the two sides of the AMC connect. This means either can be used when seeing a movie!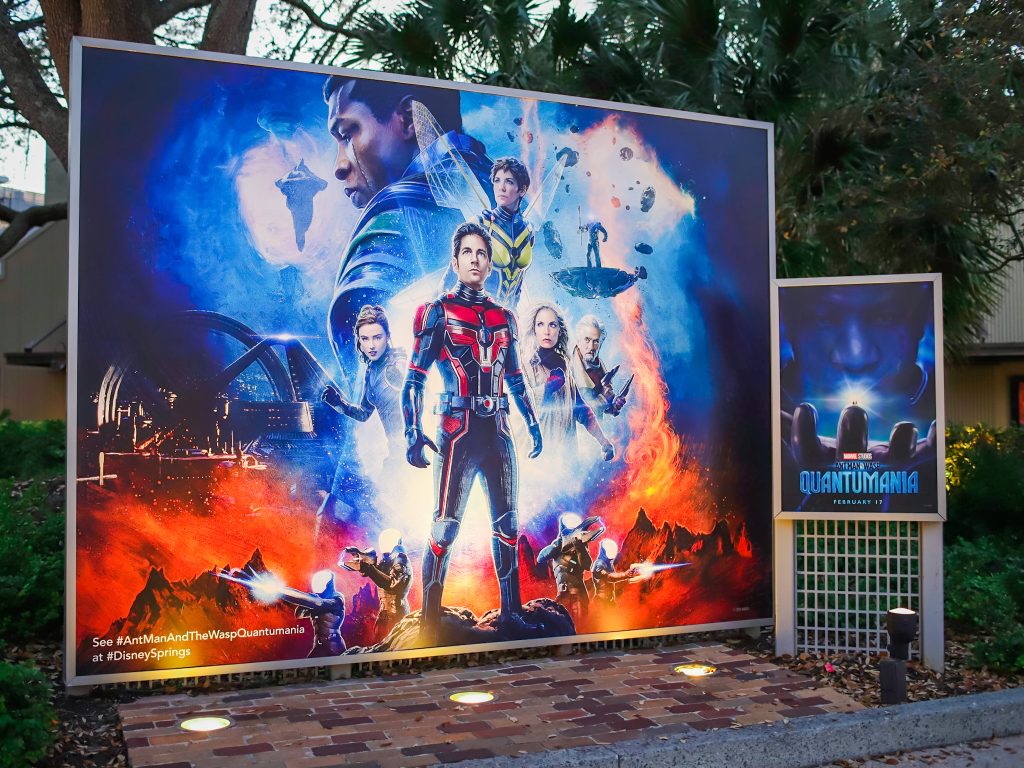 I Have A Feeling We're Not In A Theme Park Anymore
The AMC DINE-In Disney Springs is a great place to a take a break from the theme parks. With 24 different theaters, this AMC offers a wide variety of movies from the newest releases to indie films. Despite there being plenty of options and showtimes, it is best to purchase tickets in advance due to reserved seating. Tickets can be purchased on AMC's website and app. AMC's A-List service, which allows movie go-ers to see up to 3 movies each week at a fixed monthly rate, can be used at the Disney Springs location.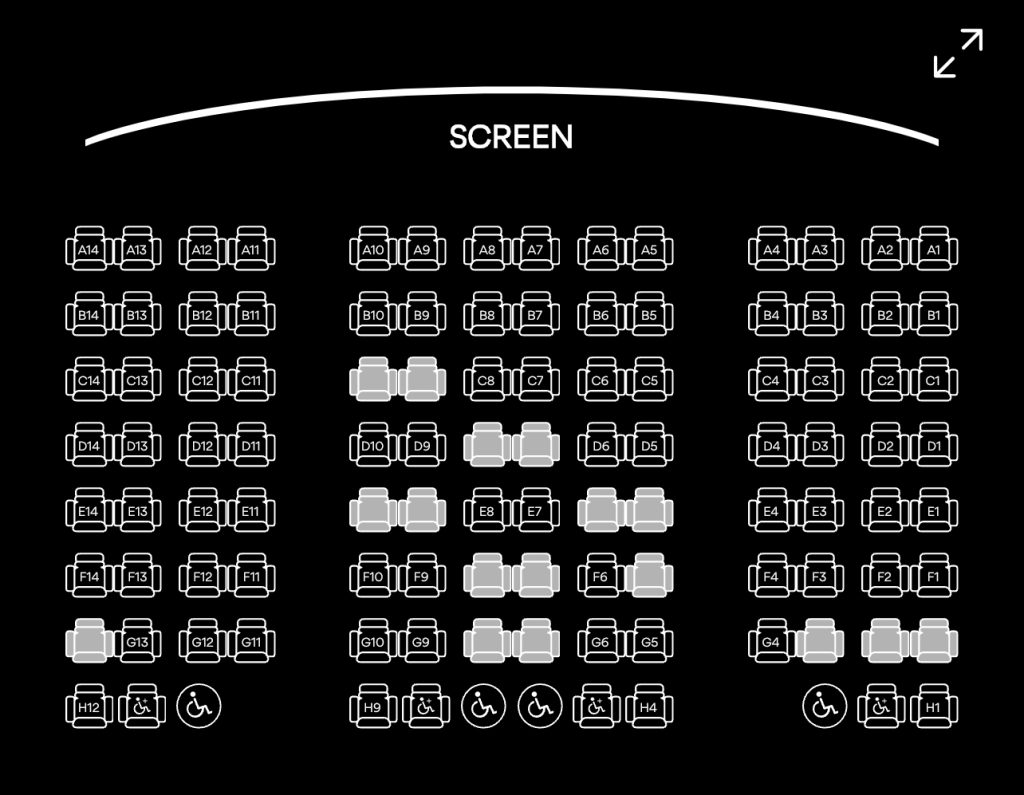 You Had Me At Popcorn
There are concessions on both sides of the AMC DINE-IN Disney Springs 24. At the dine-in side, there are meals like flatbreads, wings, burgers, and more along with typical movie theater concessions. Food options on this side are ordered on self-service touch screens and are delivered to guests' seats in their theater. Additionally, MacGuffins Bar is located on the dine-in side for those who want an adult beverage.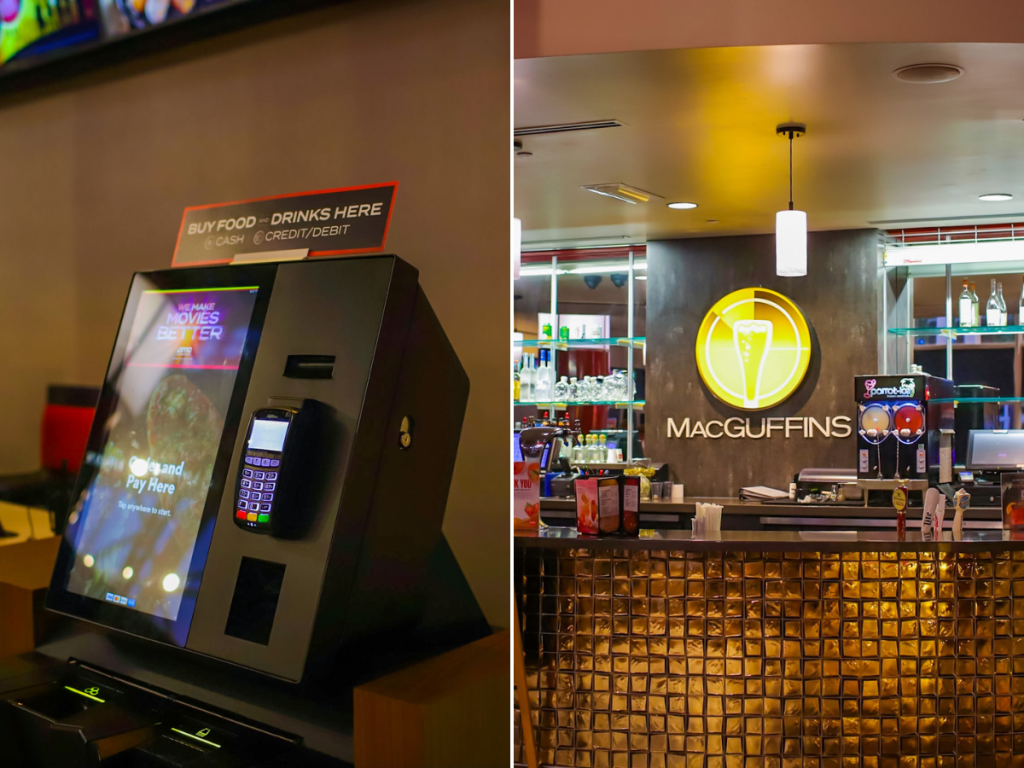 The Dolby/Standard theater side has more of a traditional concession stand. In addition to popcorn, candy, and soda, several other options can be found here, such as hot dogs, nachos, and ice cream.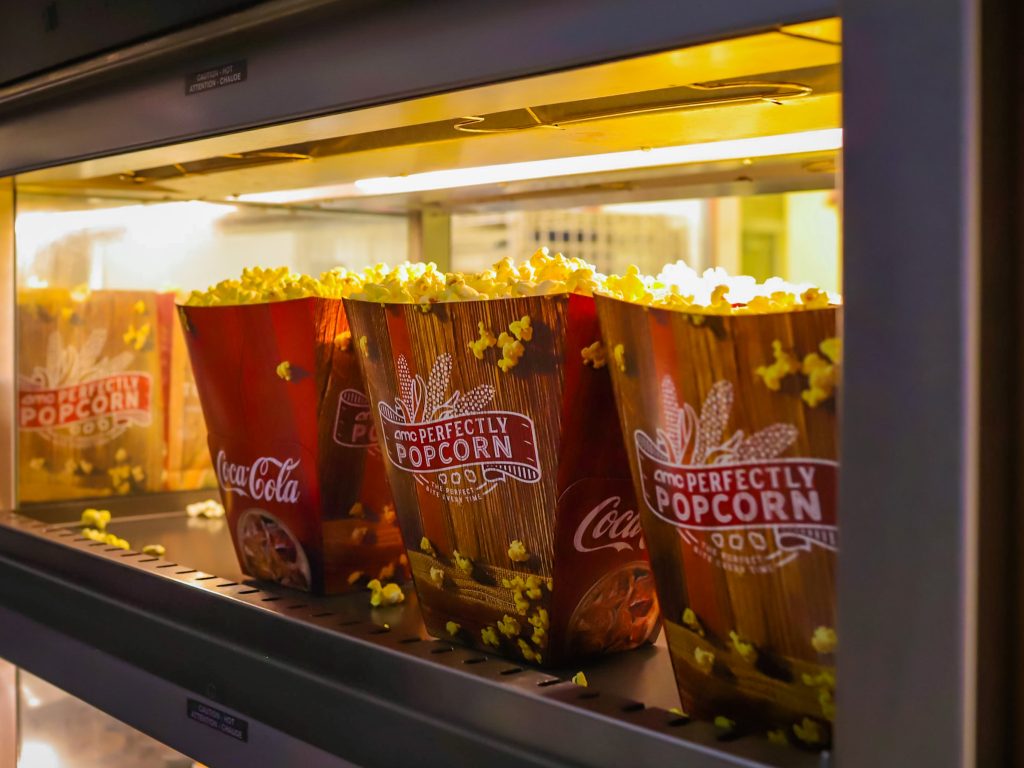 You Ain't Seen Nothing Yet!
Once the tickets and snacks have been acquired, it's time to head into theater for some movie magic. There are 3 different types of theaters at the Disney Springs AMC: Dolby, Dine-In, and Standard Seating.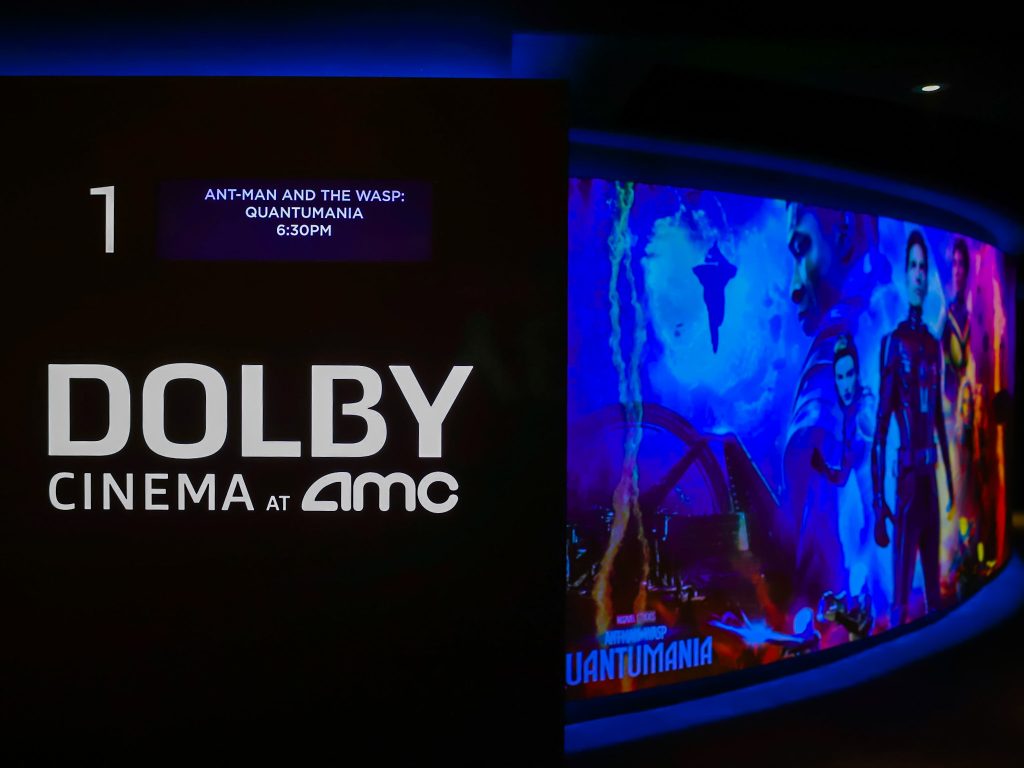 The Dolby theater provides the best quality sound and picture. With improved brightness and colors, sound that moves, and spacious recliners, the Dolby theater is truly an immersive movie going experience. While there is only one Dolby theater at this AMC location, there are so many seats that there are entrances on three levels. The upper entrances can be accessed via stairs or an elevator.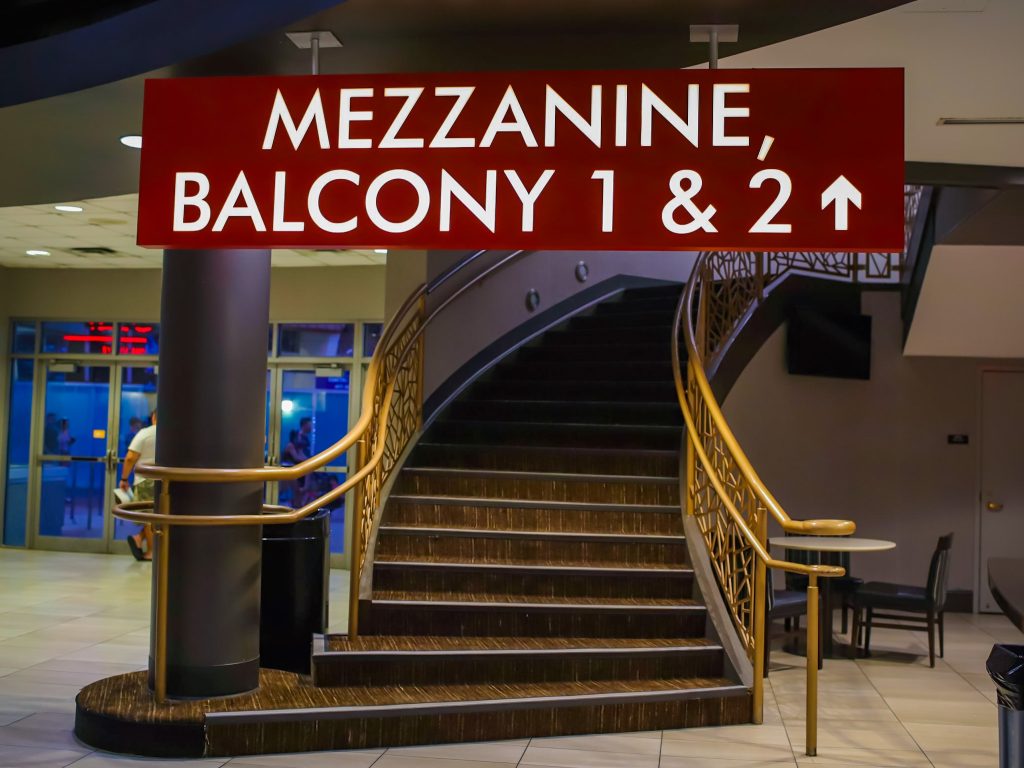 The dine-in theaters also have reclining seats with a heating feature. These seats also have a small table that swings over the seat to make it easier to eat. There are several different sized dine-in theaters at the AMC Disney Springs.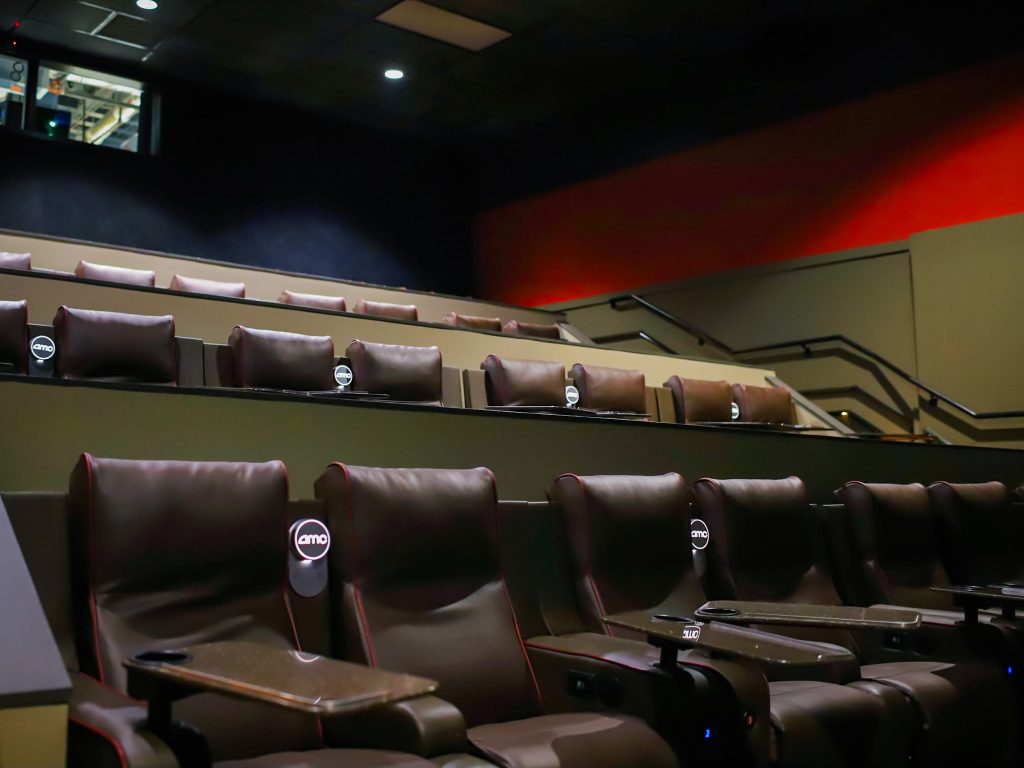 Theaters with standard seating have typical movie theater seats which do not recline. Just like dine-in, there are both big and small standard theaters. The biggest of the standard theaters also have upper levels like the Dolby.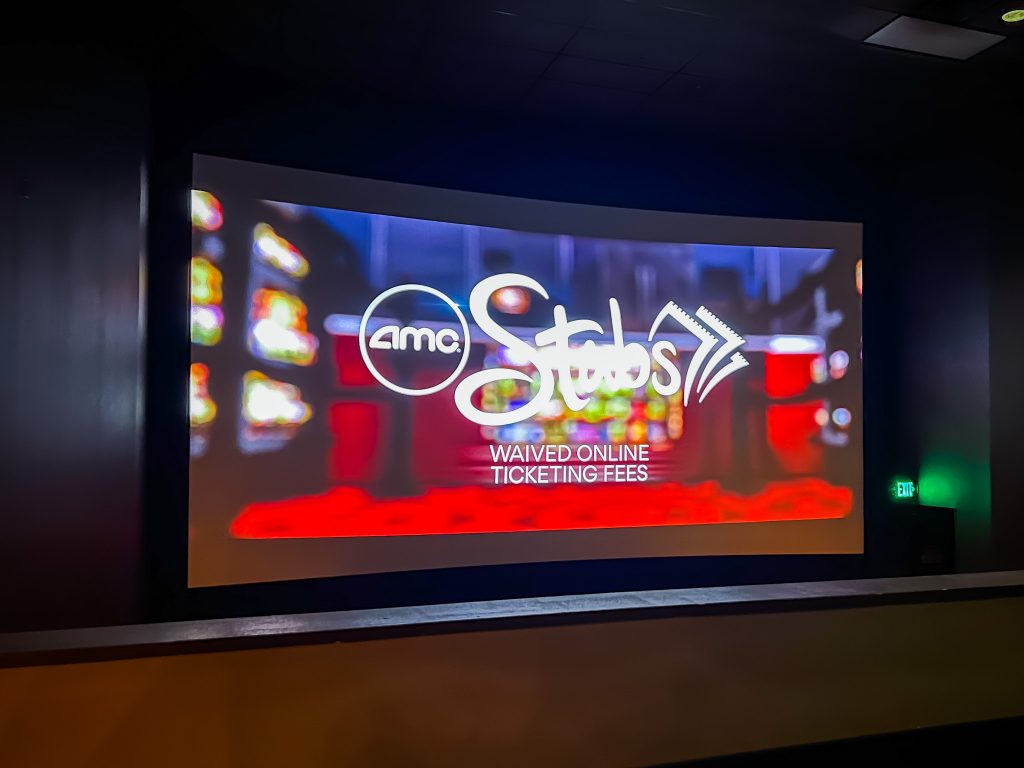 We'll Always Have The Movies
Whether its for a break from the Disney parks, an activity on a rainy day, or just a desire to see a good film, a trip to the Disney Springs AMC is sure to be a magical one! Have you ever seen a movie at Disney World's movie theater? Let us know in the comments!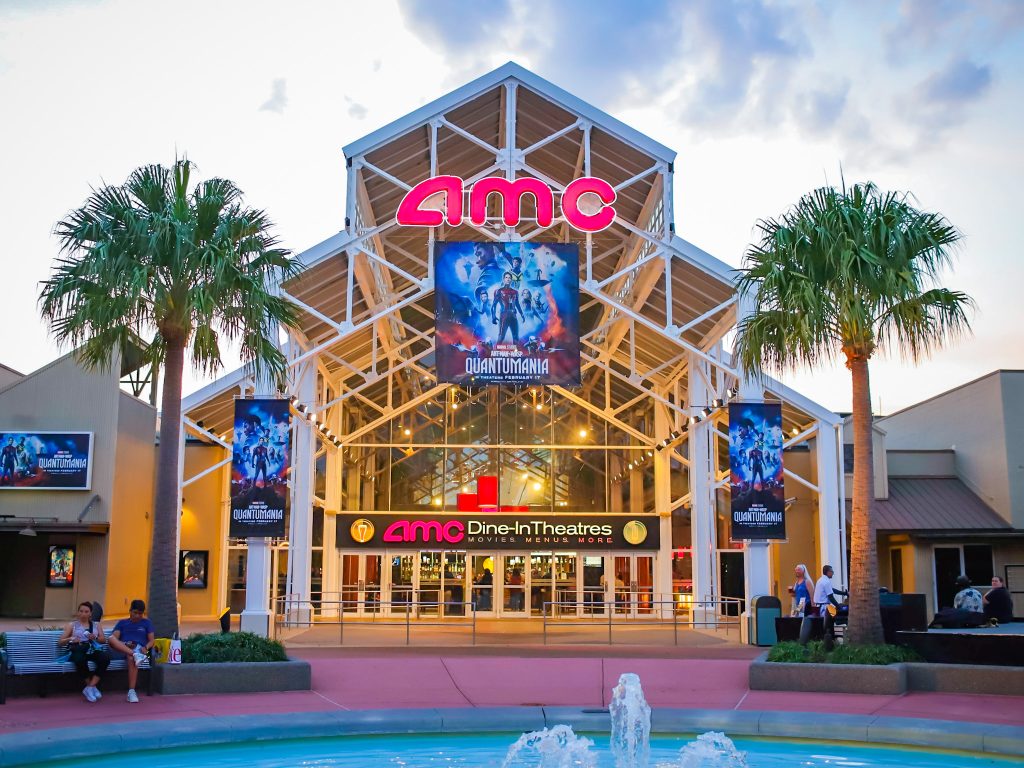 Featured Photo: Emily Murray.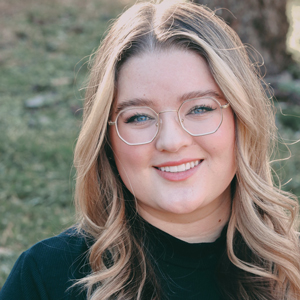 Written by
Emily Murray
Contributing Writer
For as long as Emily can remember, Disney has played a huge role in her life. Her infatuation with Disney resulted in many hours spent rewatching Toy Story and creating multiple powerpoints to convince her parents to book yet another vacation to the "Most Magical Place on Earth". In 2015, Emily followed one of her dreams and moved to Orlando, Florida where she spent just over five years working for the mouse in three separate roles. Emily is passionate about writing and using words creatively and concisely. She loves to make others laugh and hopes to sprinkle a little bit of magic into everything she does.