In September 2019, Disney World debuted their newest mode of transportation, the Disney Skyliner. "The most magical flight on Earth" transports guests between two theme parks and multiple resort hotels, all while giving you spectacular views of the surrounding area. The constantly moving gondola system makes it quick and easy for guests to travel around Walt Disney World.
Stations and Routes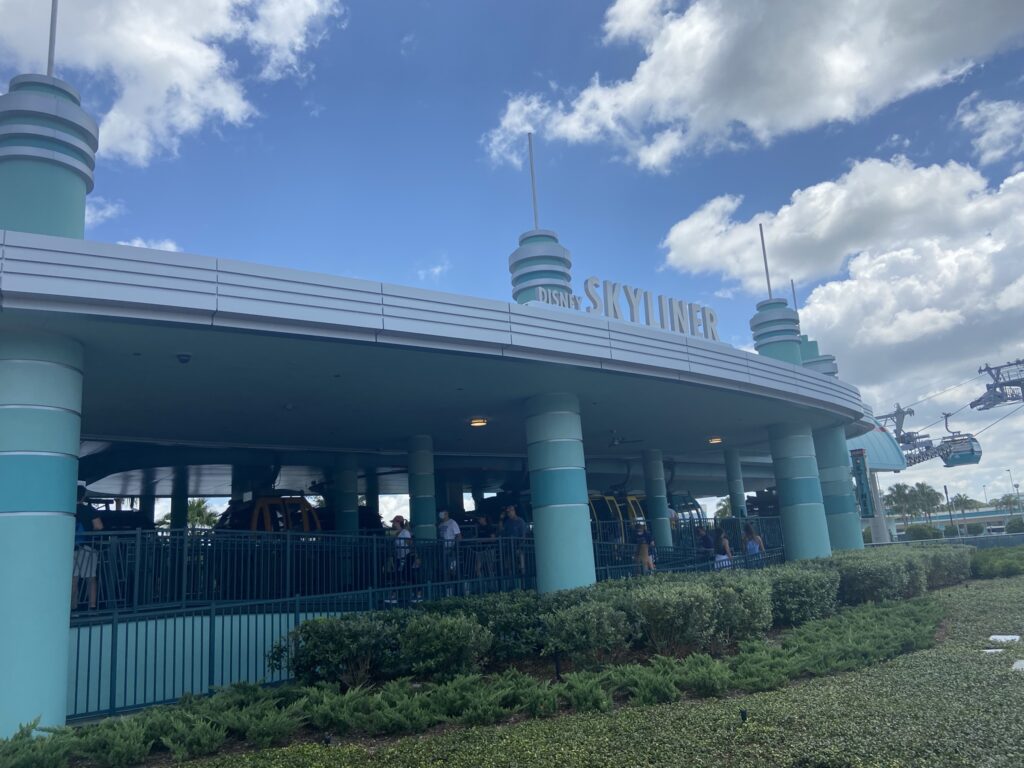 The central hub for the Skyliner is at Disney's Caribbean Beach Resort, located south of the Jamaica buildings. From this hub, you can hop on a gondola to Epcot, Disney's Riviera Resort, Disney's Hollywood Studios, or the shared station for Disney's Art of Animation Resort and Disney's Pop Century Resort. In true Disney fashion, each station is themed to its location so that it doesn't stick out like a sore thumb. Since it's the main hub, the station at Caribbean Beach also has bathrooms and attraction posters for different Disney travel experiences, like Disney Cruise Line and Adventures by Disney.
Transferring At The Central Hub

If you're traveling from Epcot to Hollywood Studios, you will have to get off at Caribbean Beach and switch to a different gondola. The same is also true for guests embarking from Art of Animation/Pop Century to either of the theme parks: you'll have to transfer gondolas at Caribbean Beach to continue your route.
Although this might sound like a hassle, it's actually pretty easy. There are plenty of signs directing you to the right place and since the gondola system is continuously moving, the line doesn't get too long. The station at the Riviera Resort is the only one where you don't have to disembark, unless it's your destination. For all other stops, you will exit your gondola once you reach the station.
Park Station Locations
The station for Hollywood Studios is located outside the front entrance of the park, before you reach the security checkpoint. The EPCOT station is located at International Gateway, the secondary park entrance between the France and United Kingdom Pavilions, which gives you quick access to EPCOT's World Showcase. This station at International Gateway is also just a quick walk from Disney's Yacht Club, Disney's Beach Club, and Disney's Boardwalk Resorts, which makes the Skyliner a convenient mode of transportation when heading from the BoardWalk Resort area to Hollywood Studios.
Travel Times
Personally, I find the Skyliner much more convenient and more efficient than the buses or boats. There's so many sights to take in from up in the air that the time flies by. Listed below are the travel times of the various routes:
Hollywood Studios to Caribbean Beach: 5 minutes
Pop Century/Art of Animation to Caribbean Beach: 5 minutes
Caribbean Beach to Riviera Resort: 3 minutes
Caribbean Beach to EPCOT: 12 minutes
Hollywood Studios to EPCOT: about 18 minutes; this will vary depending on how long it takes to transfer from one gondola to another at the Caribbean Beach station
Gondolas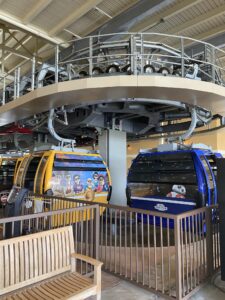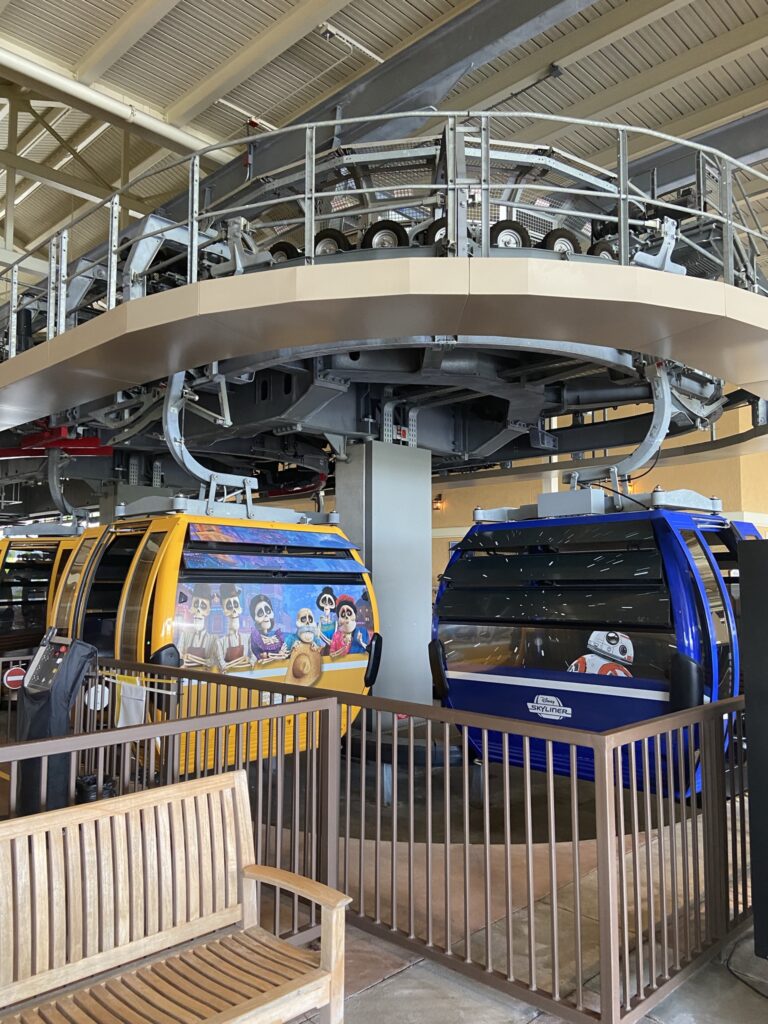 Disney's Skyliner features over 300 gondolas in a variety of colors and some of them are even decorated to represent popular Disney movies and attractions! Each gondola has two wooden benches inside and can seat up to 10 guests. In the past, that meant that you would more than likely be sharing a gondola with another party, but due to COVID, that has been changing.
When the Skyliner first debuted, one of the biggest worries was whether or not the gondolas would have air conditioning. They are not air conditioned, but every gondola has window vents, which allows for a breeze to move through the cabin. The Skyliner moves faster than you think, so you really do get quite a nice breeze up there, even on a hot summer day.
There is also onboard audio to accompany your flight that varies depending on which route you are on. The narration will highlight the destinations you can see below, as well as entertaining guests with facts and figures about Walt Disney World as a whole.
Boarding
The Skyliner is continuously moving, but it does slow down to come into the station so that guests can safely board. The cabin is coasting along while you climb aboard, similar to the Doom Buggies on the Haunted Mansion. Strollers do not need to be folded up to board, unless they are larger than the doorway into the cabin.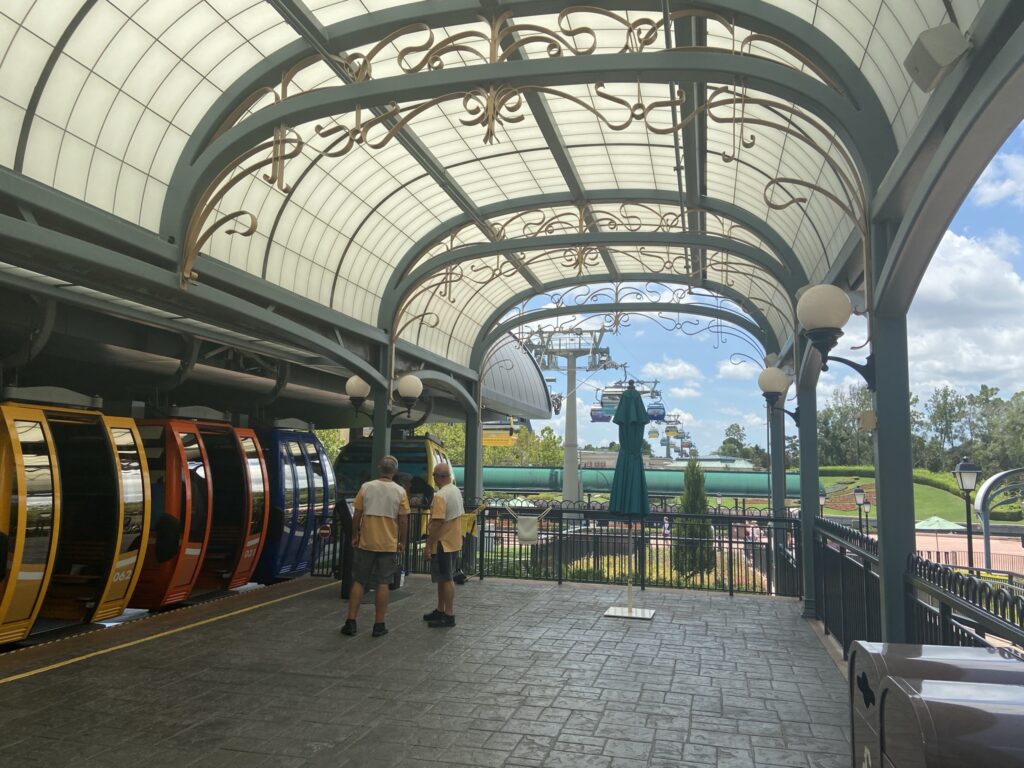 ECV And Wheelchair Boarding
If someone in your party is traveling in a wheelchair or ECV, then there is a separate line for you to enter. Instead of having to board the gondola while it's moving, your gondola will come to a complete stop so you can safely board. Then, a cast member will put blocks behind the wheels of your mobility device to keep it from moving around during flight. Gondolas with a wheelchair or ECV can accommodate up to 6 guests at a time.
Things To Keep In Mind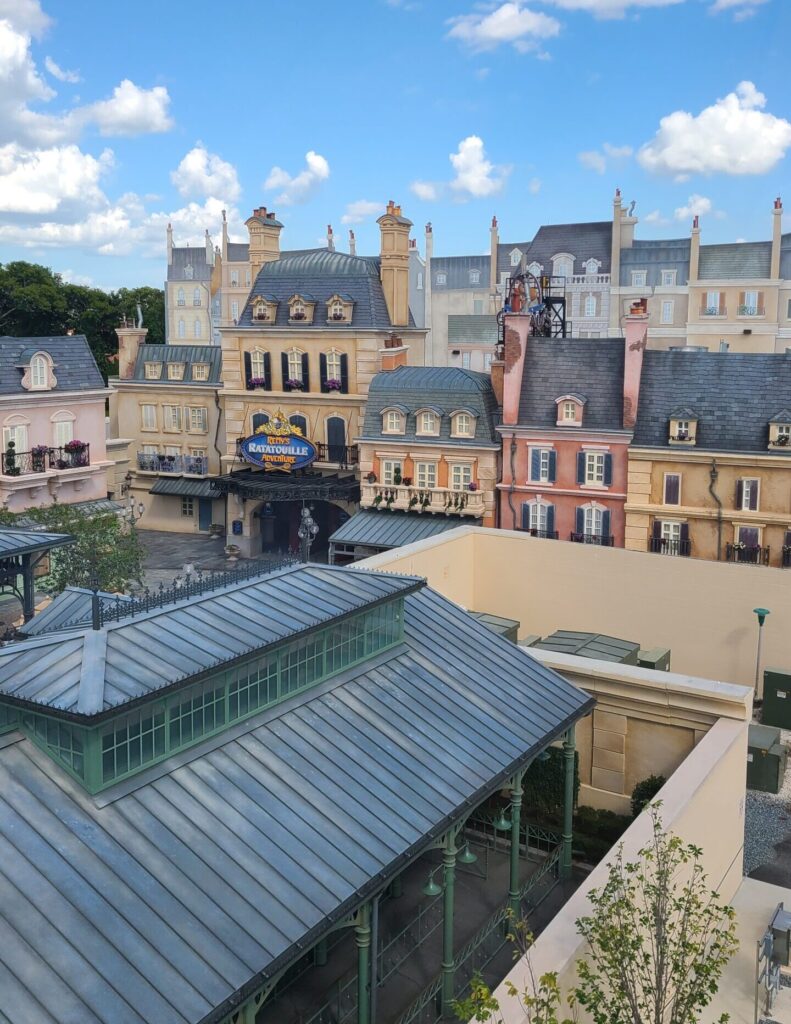 Be sure to check the Skyliner operating hours, since they do change daily. This is especially important if you're trying to make it to the parks for rope drop or to a dining reservation.
If you're afraid of heights or claustrophobic, you may want to consider using a different mode of transportation.
I would also be cautious about riding the Skyliner if you are prone to motion sickness. Once you're in the air, the ride is very smooth, but you will definitely feel movement during the takeoff and landing.
Have your camera ready! There are great views from the Skyliner, especially when you're near EPCOT and Hollywood Studios. When you're passing EPCOT, you can even see the new section of the France Pavilion that will be home to Remy's Ratatouille Adventure.
Have you had a chance to ride the Disney Skyliner? Tell us what you think of Disney's newest form of transportation.
Written by
Erika Lucas
Contributing Writer
Erika has lived in Orlando her whole life, so she was practically raised at Walt Disney World. While in college, she worked for Disney in roles ranging from character attendant to VIP tour guide. Nowadays, she spends her days planning her next trip to the parks or dreaming about setting sail on another Disney Cruise.